Cetorhinus maximus: The greatest of the family of nosed ones?  In any case, the big bike finally told me its name. Ceto.  Beaker was pretty easy when 'Meee mooo Meeeee!!!!' was the noise it makes when you wind through the gears.  The big monster has been silent.  For over 2 years.  Well… I finally got it.
A known minor issue (as opposed to a widespread issue like the Superhawk CCT failures were) on the Concours forums is that the steering head bearings have a tendency to loosen, which is usually exhibited by a distinct 'clicking' in the front end under hard braking.  Having already done custom bearings when I swapped the triples on the Superhawk a couple of years ago, I knew that going with tapered needle bearings from All Balls Racing was the way to go.  A quick order and not so quick 'waiting on the slow boat from China' shipping period, I had replacement bearings in hand.  Disassembly wasn't too difficult, since the old bearing races came out without too much protest.  And then it hit me: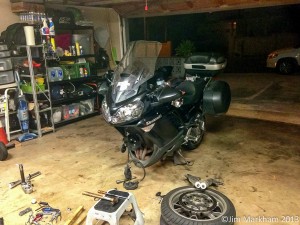 There it was… A giant basking shark, hanging out in my garage.  In looking for the picture I knew I had seen before, mouth agape scooping plankton, I ran across the scientific name of this beast.  Cetorhinus Maxiumus.  In the same order as the Great White, but not as fast, and mostly harmless. Ceto the large one.  The fish devours tiny sea animals, the bike just devours road.  And now, following the extremely difficult re-pressing of the bearing races into the top and bottom of the steering stem… (quite possibly one of the most [expletive deleted] – [more expletives deleted]… let's say [i]frustrating[/i] re-assemblies I've ever accomplished), we're all buttoned back up.  Test ride with some good braking maneuvers, and we're back in business!

Also does well set down from 'anti-gravity maneuvers'… not that those happen often. 🙂