So it's not official yet, since I have all the receipts and witness statements, but I have to send them in to the Iron Butt Association for certification.  That said, I completed my first SS1K on Thursday.  It's been a long time coming, and having done it once now, there are some things I will change for future rides such as this.  The bike did great, and with the addition of a Rostra cruise-control setup, I'm thinking the Concours is near perfect for this sort of thing.  Heated seat and grips were perfect for when I set off (it was 39* at the house, a bit chillier than I had expected), and for intermittent use during the ride.  Being the camera nut that I am, I made sure to pack the point-n-shoot, although with my head all wrapped around getting everything right at the start point, I forgot the "And I'm off…" picture.  Oh well.  Managed to remember at the first fuel stop though: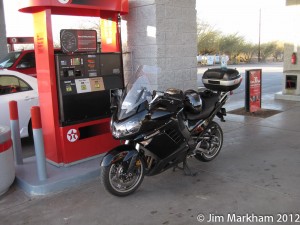 0500 start time in Benson AZ.  Headed out I-10W to I-8, stopping at Gila Bend for gas.  On to Yuma for the 'top it off at AZ fuel prices' stop, then straight through to San Diego.  I met my cousin John for lunch at Nick's at the Pier in Ocean Beach, but had forgotten the time change, so I was there an hour earlier than I expected.  Oops.  I went ahead and ordered lunch, and waited:

Since he was planning on heading down early anyway, John wasn't too long getting there, and we had a good talk over really good food.  On the list of 'biker ride to eat' spots, this one is definitely on the keeper list.  The 'beach breakfast' being served from 11-2 highlighted the laid back atmosphere near the beach, and the eggs and bacon were top-notch.  Of course having my wits back about me after a good lunch and a couple of Diet Cokes, I remembered to get a shot of both of us: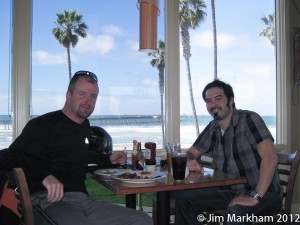 After lunch we parted ways, but not before he took the obligatory shot of me on the bike at the pier:

I left there and headed over to a local gas station to top off the bike before running up to Riverside. There was a weird guy looking at the bike when I came out of the bathroom, but luckily the station attendant was sitting on a post outside the front door, so weird guy hadn't messed with anything.  No significant issues on the ride up to Riverside via I-15 and I-215, and I felt okay enough then such that I might try the ride up I-5 to Dana Point and then across the Ortega Highway toward Lake Elsinore at some point, but not this time.  Fuel stop in Riverside was a bit of a cluster, the gas station had apparently just been remodeled, and was the only thing around, so traffic was pretty heavy.  Left there and headed over catch I-10 and come home.  The wind was a little annoying heading into Palm Springs, but once I got even with the wind farm, the semi-crosswind turned into a tailwind, so I made back some of the mileage I lost in the mountains outside San Diego.  I didn't get any more pictures of the bike on the way home, mostly due to my beginning to fatigue and making sure to concentrate on hydrating and keeping up on my snacks at each stop.  I did however, get this shot of a nice old T-bird that pulled into the Flying J at the CA/AZ border stop on the way back from LA:

2325hrs: topped the bike back off at the same Love's by the house, and then headed home.  Back in the garage by 2332, with 14940 on the clocks.

They read 13896 at 0500, which makes for a 1044 mile day… except that the GPS said 1026, meaning the odometer is about 1.75% optimistic.  Not too bad really, since that's about the same as the speedo (over GPS actual).  Best leg mileage for the day was 43.97mpg, worst leg was 34.39mpg (Yuma to San Diego, over the mountains).  Overall, I managed to average 39.36mpg for the whole ride, which isn't too bad considering I wasn't sparing the ponies while out on the road.
After Action Review:
Issue: Fuel stops took entirely too long.
Discussion: I made a conscious decision not to use my camelbak for the ride. I did bring the drink bladder which goes in the front of the jacket, but the temperature outside was colder than expected. Because of that, I didn't think putting cold water and gatorade next to my chest while I still had the heated grips and seat on trying to keep warm would be prudent. I found the bladder for my backpack unit camelbak, but couldn't find the backpack itself, which would have put the cold liquid outside the jacket and behind my back protector. Without that equipment I was unable to keep drinking fluids while on the road and thereby eliminating that piece from the stops.  While it doesn't seem like a lot, 5-7 extra minutes per stop to stay hydrated can add up to nearly an hour over the course of a day. It's also harder to gauge exactly how much I should drink at each stop, because 'full due to chugging water' doesn't necessarily equate to 'hydrated'.
Recommendation: On rides, make sure to lay out gear ahead of time so as to have the right gear available. Hydration is very, very important on rides like this, so without the onboard water, I was forced to slow down at stops to make sure I was getting enough liquids.
Issue: Time zone SNAFU
Discussion: I am an idiot.  However, in my defense, for most of the year, AZ is on west-coast time, due to that fiddly daylight saving nonsense.
Recommendation: Check for time zone changes in your route, and when planning link-ups, consider whether you calculated arrival in local or "where you started" time.
Issue: Temperature changes
Discussion: Knowing it would be colder in the morning than during the meat of the day, I layered up appropriately, and brought my insulated gloves, leather gloves, and vented gloves just in case.  It never did get warm enough to break out the light gloves, but did get warm enough that I needed to pull the quilted liner out of my riding pants and lose one shirt layer.  Wasn't quite warm enough to pull the wind liner out of the jacket either.
Recommendation: SUSTAIN!  At least I did something right!
Issue: Rider visibility / conspicuousness
Discussion: Being somewhat concerned for my safety, Kelly bought me an AdMore brake/turn-signal light kit for the Givi topcase as this year's birthday present.  I installed it and made sure everything was working correctly on Wednesday before the ride because 1. I needed to be more visible and 2. Kelly said I couldn't go unless the lights came in and I got them installed.  They came in Wednesday morning.  Also, I had previously added iron-on reflective strips to the jacket, which add a huge amount of reflectivity to me while on the bike.
Recommendation: Consider riding with the side-cases installed as well next time.  There's no real hit to fuel mileage with them installed, they help act as crash guards for low-speed drops, and they've already got lots of extra reflective material installed on the sides and rear.  Plus, with a bike as big as the Concours, lane-splitting in CA isn't really an option anyway, so the extra width is not a problem either.
Overall, it was a great ride, and a great day. I'm all back in one piece, and while my hands and forearms are still a little sore from gripping the bars all day, I'm otherwise pretty well off.  I'd move 500 miles into the "no planning, jump on and ride" category now, and consider anything under 300 as "Just a warm-up".  Especially if I have a whole day to make those 300 miles!