And even longer expected blog post about it!  I've been fighting with my external hard drive enclosure, one of those 'just plug an internal drive in the top' setups that is supposed to be great… It wasn't.  After much wailing and gnashing of teeth, I bit the bullet and purchased a new drive for my photos… none too soon!  Turns out the slowdown in my workflow wasn't a software issue – the hard drive was dying!  I ended up having to use my undelete disk tools (Recuva FTW!) to get the last couple of photos, but managed to get everything over to the new HD before the old one completely crapped out on me.  I'll probably zero-write the entire drive (if it can even manage that) and then pitch it.  If I'm lucky, I can get Western Digital to pop for a replacement, assuming I can find any of my paperwork for it.
All that said, we had our wedding reception back on 14 January, and I've managed to get past all of the technical difficulties so I can post the shots to Picasa.  Mike did a great job as our photographer and went so far as to do all the color correction and editing, which was awesome.  Since we had family out, we got everybody together and went over to the museum during that morning, got some great shots of everybody walking around:

Mom kept trying to duck me once she figured out I was shooting, but eventually gave up and went back to smiling again:

Mike brought out the big guns to play around with before the reception later in the day:

He and dad were a bit harder to get framed right in the 'surreptitious shot from the hip' photos, but I managed okay:

I got better shots when we went back later last month when Keith and Sarah came out and we posted up on top of cat canyon, but I still got some decent shots during the raptor free flight:

Randy got into the spirit and goofed around a bit: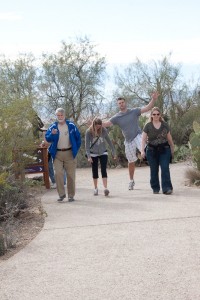 Back to Kelly's mom's house to help finishing up with the setup, and wait on guests.  These shots of the setup Mike got and me needing to shoot a lot to 'practice my eye' (in addition to the larger RAW files slowing down my dying hard drive) are part of the reason I went back to shooting JPEG images for a while.  He's good: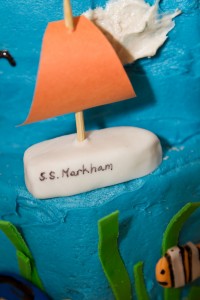 Lots of shots of people as well, which is what a party is about anyway: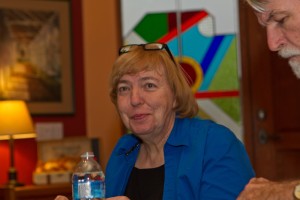 Kelly loved the couple he got with the flash and longer exposures while the kids were running around by the pool.  I seriously need to work on stuff like this.  Way cool:

This one was my absolute favorite.  Being the camera guy, I don't really have many shots of myself, and especially not really good ones like this: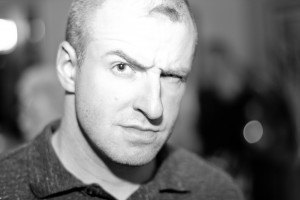 These and the rest of the photos from the reception are all up over on my picasa site. The album is 'private' and not visible in my regular album list, so you have to email me for the link.