So as the eventual outcome of my previous She said yes… posting back in April, we had been planning a destination wedding for back in November.  Yes, it did happen then, but between the run-up to the wedding, the run-down after getting back, getting back up to speed at work, working at getting ready for Christmas, and Christmas running into New Year (as usual), I have been a bit remiss about getting all the photos posted here.  I've got my Lightroom-Wordpress workflow figured back out again, so I'm taking the breathing space between now and well, now, to get this posted.  Should be a lot of pictures here, but not too many words.  As is the case with most of my 'lots of pictures' posts, the pictures tell the story better than my sorry jibberish could hope to anyway.
27 November – Flight from Phoenix directly to Miami goes uneventfully.  We picked the direct flight in order to minimize the chances that airline staff might be beheaded should the dress fail to arrive at the same time we did.  The pelican case took a bit of time coming off the plane, but arrived with its contents intact.  Off to the hotel to crash out for the night.
28 November – Boarded the Carnival Destiny.  I'll keep the summary of the cruise portion itself to this:  If you've never been on a cruise, Carnival isn't a bad way to try it out.  It wasn't bad, and was the least expensive option.  If it turns out that cruising is for you, then (as we have figured out) you'll probably agree that since cruising is a luxury purchase anyway, if you can afford to go, you can afford to wait a little longer between cruises and spend not that much more on another line.  Like I said, the cruise didn't have anything in particular wrong with it, but there were some areas which could have been improved.
That said, as we're all getting on the boat, there was a lot of this kind of stuff going on while we were still tied up in port and everyone had signal: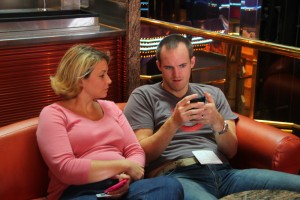 Everyone got settled in their rooms, and then we were off!  South Beach, Miami, from the rail of our balcony on the way out of port:

Here's a shot my brother took of his wife and our sister from the other side of the ship:

29 November – Much eating, drinking, and hanging around on the boat.  Not really the topic at hand, so I'll summarize the day with a shot of the entrance to the dining room, and one of the Karaoke mischief from that evening: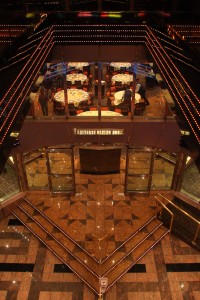 EDIT: I have been reminded that the karaoke shot from below was on the night of the 28th… so we wouldn't have any left over 'out drinking last night' residuals on the wedding day.  Doesn't change the fact that Mike can rock some ACDC!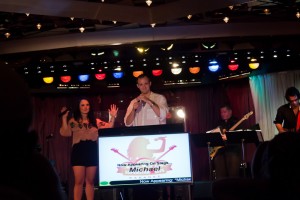 30 November – Wedding day.  We got off the boat and were lucky to have done so.  The wedding planner said she had to cancel the 2 weddings from the day before due to the couples not being able to disembark due to the weather.  From behind the wedding planner's office, the bay front still looked like this:

This meant that our original location, about 7 miles up the beach in the direction my camera was pointed above, was being wave-washed and not a viable spot for doing the ceremony.  Luckily an alternate location was available, complete with witnesses: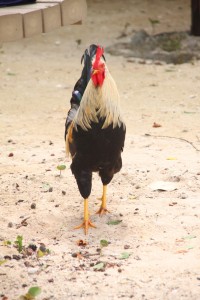 Here's a couple of the standard 'milling about and getting ready waiting on the bride to arrive' shots: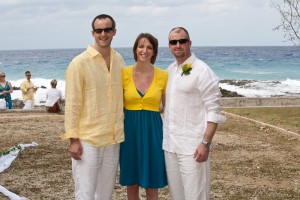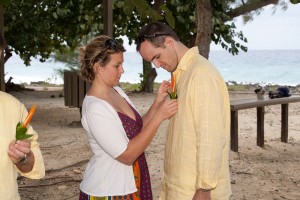 We do actually clean up nice…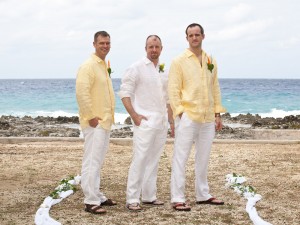 Aside: the wedding band with the trillion diamonds, due to the engagement ring being a cathedral setting was an absolute nightmare to get sorted out.  6 weeks of constantly having to battle the jewelry store rep's mis-interpretation of what we wanted later, we got it done, with less than a week to spare before the ceremony:

Finally, the bridal party arrived.  Here's Wes walking Kayla down the path from the parking area:

Mike walking Natalie in (yes, he is 6'4″, and she's 4'10″…):

Before the ceremony, Kelly insisted that I make sure Mike (her Mike, our photographer, as opposed to my Mike, my brother…) knew to have the camera pointed at me so as to capture my reaction when she came out: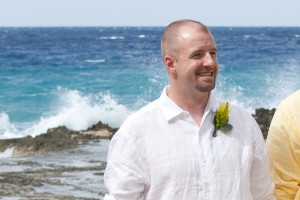 And here's why I had that goofy smile…


(She looked GORGEOUS!!!)
During the ceremony: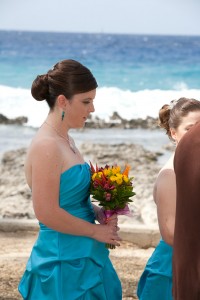 Our sand ceremony, in lieu of a unity candle.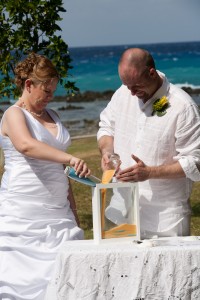 (I'm probably on watch-lists already, so I don't care if some DHS goon reads this: Airport security screeners SUCK.  This got un-packed while they were checking our baggage and wasn't re-packed properly, resulting in our having to purchase new sand and figure out how to permanently seal the box so it doesn't get screwed up in military moves… but I digress…):
My favorite shot:

Everybody together afterward.  From left to right are Mike (Kelly's friend) and Mary, Jim and Diane (Kelly's ex-stepmom), Kayla, Vince and Natalie, us, Mike (my brother) and Karen, Wes and Suzanne, and Shelby:

The standard "wedding party" shots: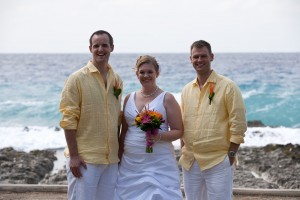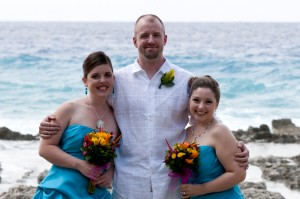 Kelly's favorite shot:

Afterward we figured out we had another guest: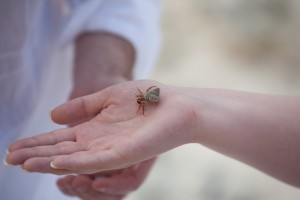 Again, many, many thanks to Mike for coming out and being our photographer.  Oh, and get your sh*t together and put a ring on that one…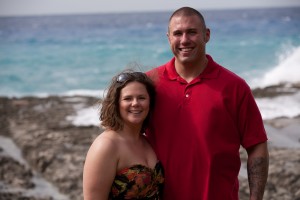 Ceremony over, papers signed, it was back off to the boat.  On the way, everyone made note that in Grand Cayman, one does not Yield, one Gives Way…

Back at the tender boat landing, we got lots of cheers and congratulatory remarks when we got out of the shuttle van with our wedding kit on.  Gratuitous boat shot:

It had been a bit of a long day, what with the boat having to dock at an alternate bay due to the wind and waves, the extra driving, etc, etc.  And then we all had to wait in line for everyone to get on the tenders and get over to the ship.  Not everyone was amused:

Dinner brought toasts and laughter back though: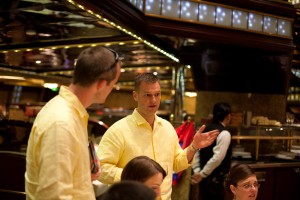 1 December – Honeymoon in Jamaica!

Kelly really wanted to do the bobsled ride, but that was a 'nice to have' in addition to the zipline!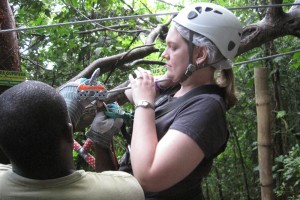 Since the chair-lift ran a bit slower than the zipline, I managed to get some decent wildlife shots from our canopy ride back down to the coast road (these are both crops from a pretty good distance at the full 200mm end of my Sigma lens, but pretty decent nonetheless):

Had to have the Red Stripe with lunch: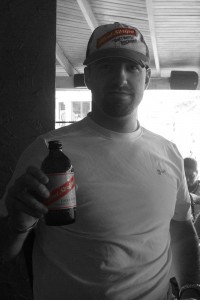 This sign was across from the bar where we had lunch:


Yah mon, walk good!
This sign was even better, but required me to run back a couple hundred yards from the port after the shuttle van dropped us off:

Two more nights on the boat before we got back to Miami, and we got treated to some pretty nice sunsets.  The trip was great, and now I'm married to a wonderful lady.  Many thanks for all our friends and family who came along, we're glad you were able to be there to experience it with us.  With that, I'll end with this: