Last weekend I finally got to accomplish one of the items in the 'motorcycling' section of my bucket list: I went racing.  Not just some trackday antics or ill-advised street-racing, but officially sanctioned and licensed racing.  The Southwest Championship Cup Series hosted the 5th round of this year's race series at the Inde Motorsports Ranch, in Willcox AZ.  It's just recently gotten overhead imagery updated on Google maps, and is a great facility.  Good paddock area, nice clean bathroom facilities (important if you want your spectators to not hate going along to watch!), and a very interesting track layout:

There are a couple of alternate layouts for the track to be configured in, but for the race school and trackday on Saturday, and then the races on Sunday we ran on what the track site lists as the "Main Circuit" or "Configuration 4", which includes both of the extra corners built into the northern section of the track.  Having been out to Inde for a trackday previously, I was already familiar with this set of turns, which was nice.  The new rider's clinic (a.k.a. race school) ran for the first 4 sessions of the morning on Saturday, with the 4th session being a mock race.  Alan Chook was our main instructor, and he covered the material pretty well.  There were 7 of us at the beginning, and 7 when we finished the mock race, which meant nobody failed the written test, and nobody crashed.   While I wasn't quite as consistent as I would have liked over the morning, I was still pretty satisfied with getting through okay.  We did have a 'live' test of a red-flag condition when we went out for our 2nd session and it got cut short by a guy on a CBR downshifting too many times on the way up the hill from turn 4 into 5 (2nd right-hander after the main straight) and high-siding his bike.
Race Day:  Since the house is about a 45 minute drive from the track, we spent the night back here in nice beds (vs. camping out).  The next morning we got the ez-ups back up and got my race number installed.

Back-story on being #112:  My 1st choice for a race number was 42.  That wasn't available, and there were two more number entries with three boxes each, so I entered 112 and 358.  Yes, that is the Fibonacci sequence, and yes, I am a math nerd.  That said, you can note the flat spot on the fairing just below the right side header pipe.  Apparently the header pipe would be the first thing to contact the ground (per some of the other guys on the Superhawk forum), so with the fiberglass fairing sticking even further down and to the right, it was dragging the ground at some point: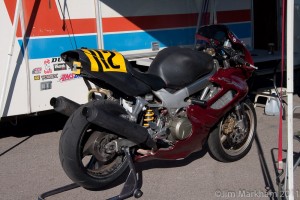 Warm-up sessions were rather uneventful, and Mark was wise enough to reiterate "You can't win the warm-up" just before I headed out on track for my first session.  My quads were pretty blasted from the race school and trackday on Saturday, so I just spent the sessions making sure I was up to speed, and that I knew how to properly exit the track since they were running a different procedure than the trackday sessions had.

Still, I has leans: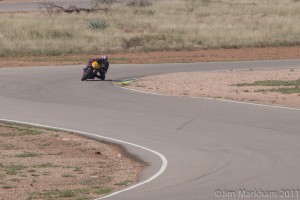 Both days we were pitted next to the Ochs', Andre and his dad, Ray.  Andre is fast.  Really, really fast.  Less than half my age, I've been driving longer than he's been alive, still leaves me in the dust fast.  Otherwise, he's a typical 15-year old kid.  I definitely hope to see him out on AMA grids in the future: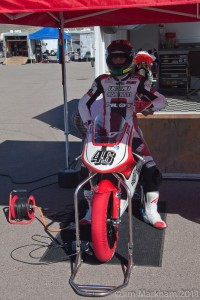 Thunderbike:
I completely Boloed the start on the mock race, so thankfully I got away without pulling a monster wheelie on Sunday.  I had a shot to punch out inbetween the two bikes on the row ahead of me, but didn't have the bit fully in my teeth yet.  Still, I managed to stay right on the back wheel of the bikes I was chasing, and drove past them sequentially, 1 per lap, on the main straight.  There were some other passing spots where I might have been able to try, but I was more comfortable just staying right with them until I could drive past safely.  Lap 2:

Lap 3: (a couple of corners further than above)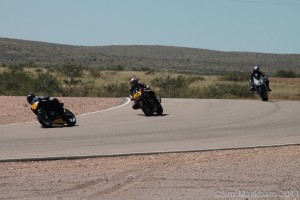 Lap 4:

The following lap, Kelly took what I think was quite possibly the coolest picture of the weekend.  She was trying to get decent shots of me, and the other two bikes just happened to line up perfectly behind me in the shot:

Lightweight Superbike:
Got DQ'd.  I kinda expected it, since the Superhawk is sort of a bike without a class since they're not running any of the Super Twins races this year.  After further contemplation, Mark thought it was because the Thunderbike race is in a "Sportsman" class, while the lightweight Superbike race counts for overall Lightweight class (Supersport, Superbike, and GP) points results for the region, and since I would have definitely finished ahead of some of the guys on SV650s, it may have affected their points standings for the year (specifically Alan, my instructor for the previous day's clinic).  Such is life, it just means I need to get a SV (or something else class-legal) so I can run full-bore in one of those classes in the future.  Without Super Twins, I'd have to run Camilla in the unlimited classes, which would put me up against the likes of Chris Peris' S1000RR BMW, which currently holds the Inde lap record at 1:48ish, which is some 22 seconds per lap faster than I'm running.  Granted, it's not just the bike, but I do spot that monster some 90-odd horsepower, so there is a big chunk of those 22 seconds which I simply wouldn't be able to do on a Superhawk.  Sub 2-minutes?  Doable.  Sub 1:55?  Probably not.  Still, Kelly managed to get a good shot of me with the checkered flag out:

Changing gears now, I also had a bit of a milestone out on the street this week as well.  Well 10,000 milestones, to be more precise. The GTR passed 10k miles on the way home from work on Thursday:

There was a gorgeous red-sky sunset, with patchy clouds reflecting the dying sun… at around 9995 miles.  By the time the clocks rolled 10k, the sun had almost set and it was significantly less pretty.  Oh well: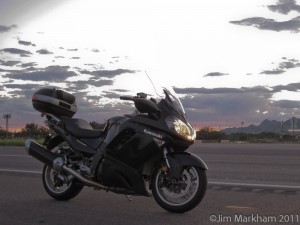 Not a bad motorcycling week.  Everything else was crazy, but one of my greatest sources of Zen was, well, rather zen-like.
Afterthought:
Found out this week (2nd week of Oct) that that kid giving me the thumbs up… he won the USGPRU Moto3 championship.  Way to go Andre Ochs!!!