World Series was rough this year… Kelly is a Dodgers fan (and I am too, for the most part, except…), and I am a Red Sox fan.  Glad my Sox won, but it was also nice to see really good baseball between class-act teams.
That said, we've been planning to sort out a bookshelf for JJ for the last… while.  I finally got after it a couple weeks ago, but haven't brought myself to get the paint done.  Given our split-personality team loyalties, the bookshelf is being painted in Dodger blue on the 'West' half, and Red Sox red on the 'East' half, with a white 'base line' running down the middle.  The 'official' Red Sox Red, from the official provider… still looks a bit pink.  It's supposed to get darker as it dries/cures, but we'll see.  At this point, I've got the bats taped off, the center line taped off, and both sides painted:

Those flashes of white at the bottom?  Those are baseballs I'm using as legs.   I drilled 1″ diameter holes down into the balls, then glued 1″ dowel sections into those holes, then screwed through the bottom shelf, through the dowel, and into the bottom half of the ball.  This gives the ball a 'flat spot' on top, rather than trying to attach a sphere to a plane at one point. Nota Bene: That's not really advised, if you don't want them to torque the screws and break any time the shelf gets bumped.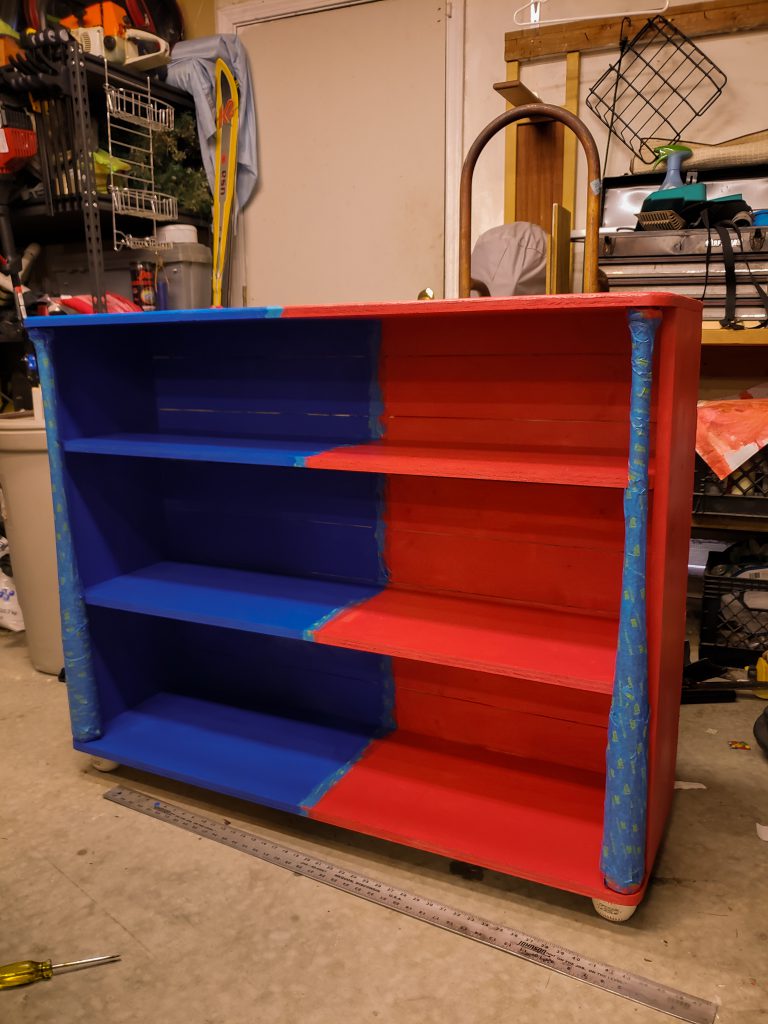 Once I get the colors finished, I'll pull the center tape and mask off the sides of that stripe so I can paint the white, then pull all of the painter's tape off and post final photos.  More to follow.