Not really a philosophical post, but then again it is. I've written before about getting down into a scene to get better pictures (see post here).  Something else to consider is focal length.  So, for a quick run-down on how that changes the view perspective, here's a sequence I shot of the moon (and a lot more stuff with the wider lenses…), on a whim.  They were all shot on full-frame, and would end up cropped by a factor of 1.6 on an APS-C camera.  They're also all shot at f/11, though that doesn't really keep anything other than the aperture constant since DoF changes wildly between 14mm and 800mm.
14mm:


While this is technically a 'rectilinear' lens (i.e. not fisheye), there is some distortion even after using lens corrections in Lightroom.  This is a WIDE lens, not quite so wide you have to make sure your feet aren't in the picture, but close.
28mm:


I don't have my 24-105mm anymore, and the 24mm focal length is a bit better for capturing 'wide scenes.  The 28-135 was significantly cheaper though, and since I traded my 24-105 straight across for a Sigma 70-200mm f/2.8 (a rather sharp copy, btw), I don't feel too bad losing the wider angle for now.
50mm:


This is considered 'normal' perspective for the human eye, which is apparent when you look through the viewfinder.  At this focal length, there is very little apparent zoom between the viewfinder, and what the naked eye sees.
100mm:


This is starting to get into some noticable zoom, at a factor of ~2.3x.  Note that we're only catching a portion of the tree, and the sky is getting slightly darker.
200mm: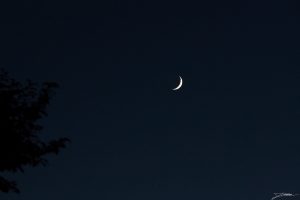 Now we're at ~4.6x, and there's a significant falloff in sky brightness.  This is due to the light from a smaller portion of the sky (which is mostly dark) being spread over a larger area on the sensor.
400mm: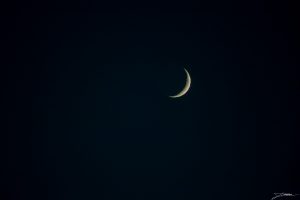 Disclosure: this shot is mildly cropped, only to keep the moon in the same exact place from shot to shot.  Now at 9.3x, the sky is very dark, and we're getting good detail on the surface of the moon.  This is similar to the view seen in a set of 10×50 binoculars.
800mm:


When I can manage to get the focus right, this level of zoom starts to show pretty decent resolution of moon features.
At some point, I'll need to pull the big scope out and run this out through 1280mm, 2032mm, and 4064mm, and I might try shooting down the street at a terrestrial target for comparison's sake.  We'll see.
In other perspective change, we've swapped coasts, and are getting settled in the house out here in the SF-bay area.  The job seems like it's going to be good, and Kelly is looking forward to Maddie going starting preschool so she can get some quiet time while JJ is napping.  Friends and family: if you're headed out to the SF area, we're in Vacaville and have a spare room.  Just sayin.