Posting here is sporadic at best lately.  Too many social media outlets mean I remember to post astrophotos on twitter, but not facebook; or facebook and not twitter; or both of those, and nothing here.  I have an Instagram account… I don't really know why.  I have been writing in my journal daily, and it's become a hard-coded habit.  For a while I was posting here more regularly (daily even), but I slipped, then life happened.  Suffice it to say I have some more Astrophotos, since I try and grab all the scope time I can get, weather permitting.  But with the 'GET ILE DONE' breathing down my throat, I haven't written as much about it recently.
More about what's been going on later, for now, photos.  First, a 'barn find' I grabbed from a local thrift store:  CPC1100.  This scope is a MONSTER.  I picked it up for [ridiculously low price redacted], with the intent of keeping the accessories that fit the NexStar 8, and then parting out the rest for some profit.  Hopefully enough to fund a Hyperstar setup for the 8″ scope.  We'll see.  Pictured below there's my TravelScope 70 on a GT mount and 'crutches tripod', the NexStar 8 on the filing cabinet, and the CPC1100 on the workbench:

A new-to-me 14mm lens showed up from fleabay, so I've now got a complete setup for Milky Way shots as well.  I went back to Quantico, but didn't have nearly the luck I had last year shooting there.  I tried adding a full-frame EOS UHC light-pollution filter from Optolong, but still just need a darker location.  The filter was able to cut some of the high cloud haze, since that's mostly reflected ground lighting, but a clearer night would have been better, since I could have shot w/o the LP filter.

I tried a pano shot, but figured out that I need a LOT more overlap between images.  Just because I can get over 180° of horizon with 4 overlapping shots doesn't mean I should.  Probably needed twice as many for photoshop to be able to stitch this together properly…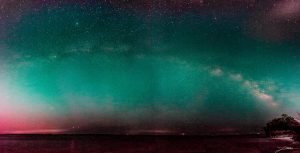 Thought I'd try a 'cool guy' astro-selfie too:

Hopefully I can keep this up and get back into regular 'therapy' by getting stuff up here.  Facebook is just a time-suck anyway.