I already dropped a little note over on Facebook about Sequoia being gone.  But he deserves at least the writeup Resa got.  At least.  He was the last of our individual dogs (Angus and Hollie are 'our' dogs, Sequoia was Kelly's dog), but you wouldn't have known that unless we told you.  Interestingly, Sequoia was around for longer than any of my other dogs, save Resa and Dozer… nearly 6 full years.  He was already middle-aged when I met him, so his quirks and idiosyncrasies were already deeply fixed.
It's highly likely anyone reading this knows what I'm talking about: the whining when we answered the phone; the pitiful howl when vehicles with sirens drove past; the 'singing along' when you played certain music (I would argue he was singing along to stuff he liked, but who knows)… and the clock-like stomach that had him yipping and panting next to your elbow at 8:01pm, because you had missed dinner time.  In many ways he was like Forrest Gump.  Special and programmable, but not a complete dummy.  And fast.  Really, really fast.  Like grab an extra gear and run away from you on the bike when you think you're blazing downhill fast.  Oh, and that tail.  The 'beat you to death with happiness – never stopped moving – "Please God don't wake the baby hitting the wall with that thing" ' tail.
Youngest picture Kelly had of him, hanging out with her step-dad, Dick: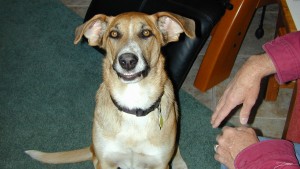 There wasn't a soul who Sequoia couldn't be friends with, as long as they'd just touch him.  Pretty sure he was in heaven on vet-tech-school bath day:

First day I met him.  He and Resa got along okay, though she didn't like Jack too much.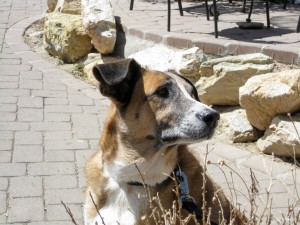 Are we noticing a trend with the ears yet?  Kelly said she brought him home from the shelter because his ears looked so cute all stuck out to the sides… He loved chew toys, and always tried to kill the squeakers and pull out the stuffing.  So… un-stuffed toys from the get-go:

The 3 Amigos.  We miss these guys.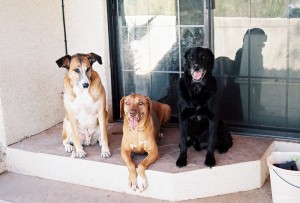 Sequoia was possibly the best dog around kids I have ever seen.  Even better than Jack in that 1 regard.  Not long after this picture was taken, little David was literally hanging off Sequoia's jowls, which he tolerated.  He just looked over David's head at me with eyes that said "Please take him off my face… please?!?".  But nary a growl did he let out.

He loved his momma.

And like I said, he tolerated Resa pretty well, even when they were both being humiliated for Christmas pictures:

But Christmas turned out okay for him that year… he had quite the haul:

Sadly, he got to take over the dog chair the next year.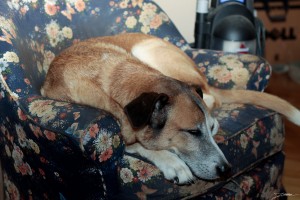 He and Ms. Mau got along well, though she would only sniff his ears instead of licking them like Ralph used to:

That tail. Never. Stopped. Moving.

Although he was no fan of the sea, he did tolerate lots of stuff he didn't like, as long as you told him it was okay.


He was already old when we go to Hawaii, and we weren't sure how long he'd be around, so Kelly really wanted him in the baby bump pictures.  He obliged:


We got to the east coast, and he had to deal with snow that stuck around, instead of just as a passing thing like it was in southern AZ:

He was even passable for Maddie to walk.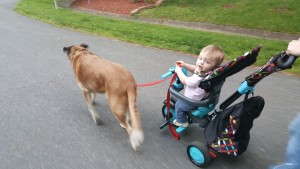 He loved Maddie:

And was always very, very interested in little critters (in this case, a frog):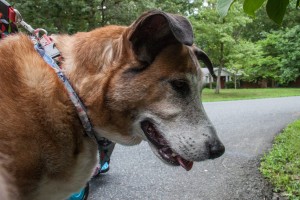 Quoia, Jedi master: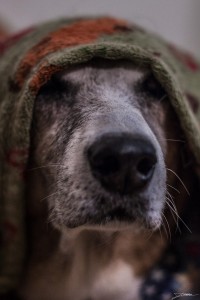 At the end, he got spoiled, because who cares if the old dog gets used to being on the couch? He deserved a little spoiling:

Dogs are here to teach us how to deal with loss.  I remember losing my first dog, and it sucked.   That I'm accustomed to dealing with it, and am better adjusted because of having to learn to cope with it does not make it suck any less when it has to occur.  Farewell buddy.