Sooo… minor fail.  The moon was going to occult Venus just before 1pm today, and so I stuck my head out when I got up this morning to see where they were relative to each other: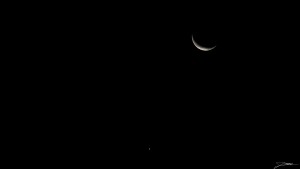 It's really amazing how far the moon travels across the sky during each day! I tried to get shots of the occultation event this afternoon, but I severely bolo'd the planning. Since the building I work in has a bunch of "No Photography" signs everywhere, I had to walk under US 235 and get clear of all the parking lots. Which meant I was preoccupied with getting to where I could shoot, instead of doing things like going back through my camera and making I was sure to be set for shooting RAW instead of JPEGs like this morning (I was trying to get lower-size files to try stacking… no love). Which meant, when I was hunting for the right aperture and shutter speed settings, the 'nearly ok' shots were JPEGs, meaning they weren't nearly as 'nearly ok' as if they'd had all the RAW data kept for fixing in post. Yay. However, after much pain and consternation, I was able to get the following 4 shots aligned and exposed similarly enough to not be a complete failure.
Going.

Going..

Going…


(Note the barely visible Venus)
Gone!

Things to remember:
1: Prep camera earlier so it's already ready for action
2: Get to the shooting location earlier, so you can go back over settings
3: SHOOT RAW YOU IDIOT!!!
Thus endeth the lesson.