So we're headed west. Sort of. Since Sir Angus McFangus won't be cleared for direct release at the airport until 20 September, he gets to stay with his Nana until then. But she's staying in Flagstaff for awhile longer (summeR is much less hot there than Tucson), thus our westward(ish) travels. He doesn't care, he's just happy he got to go pick up breakfast with daddy while the other two yahoos got pokied and bleeded.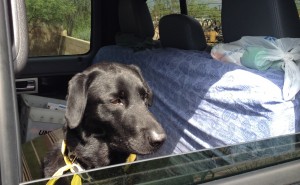 Luckily, all of our stuff fits in the bed of the truck, so the three doggies don't have to share the back seat with anything other than the box of mail we're bringing up.

Just writing this post has highlighted yet another limitation of the iOS platform for blogging… I have to upload my photos from the WordPress app, but then insert them using the web editor. All because the app won't let me insert the pics as thumbnails, and the editor won't let me upload them from the phone directly. Yay.