No, the two parts of the post title are not overtly related, other than both have some reference to dogs.  Also, as a warning, this post will be rather picture-heavy.  As some of you know, we got a new puppy.  We're working with him here at the house and then he and the cat will live with Kelly's mom for about 6 weeks after we fly to Oahu due to the timing of their rabies titers.  Everybody is cleared to enter HI, but because their tests went in later than Resa and Sequoia, they have to wait a while longer.  Based on the cost of quarantine there in Honolulu, we figured up that if she'll watch them for free, it's cheaper for us to pay for Kelly's mom to fly out with them when their quarantine period ends than it is to fly them with us and pay to 'board' them there on the island.  Okay, so he's not really a 'puppy', in that he's 2 years old.  However, being 3/4 Lab, his brain hasn't completely grown in yet.  Without further ado, meet Angus:

He really likes the pool at Nana's house: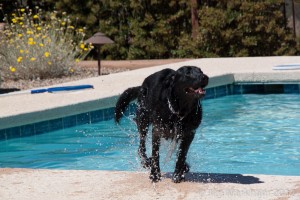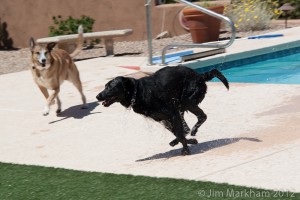 Even Sequoia got in on the act:

Lots of pool time and swimming laps between us made for tired doggy: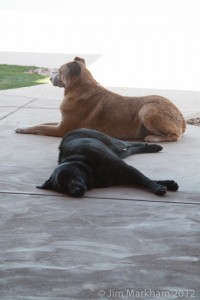 Where have I seen that pose before? Oh yeah, the lazy one: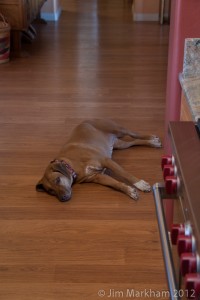 He gets along well with the other two, and has even gotten Resa to play with him, despite her general 'old and bitchy' demeanor.  He's 3/4 Lab, and 1/4 Pointer, but we still can't figure out where he got the little nubby ears from:

Since we're leaving him with Kelly's mom for nearly 2 months, and they've already had to remove rattlesnakes from the yard this year, Kelly signed him up for rattlesnake aversion training with the same guy who did it for Jack and Sequoia.  Basically, they expose the dog to a de-fanged snake with their rattles taped to orient them to the sight and smell of the snake, and then to snakes in a cage with their rattles free to orient them to the sight, smell, and sound of the snake. The dog wears an industrial strength shock collar so that the trainer can administer the shock as soon as the dog notices and becomes interested in the snake.  As shock collars go, the run-of-the-mill bark collar is mildly painful, but not so bad that the dog won't bark if something is really important.  Regular training collars you can get at the store will ramp up a bit higher, but are mostly adjustable based on the size of your dog.  The idea there is to convince the dog that whatever they're doing when you administer the correction is probably a bad idea. The snake collar on the other hand, can be set lower so that he doesn't over-shock puppies when they come, but the concept with the bigger collar is that the dog sees the snake, then sees Jesus, and permanently wants nothing to do with snakes, ever.  This can make for some mildly entertaining photo opportunities as each dog reacts differently.
Kayla brought Zoe and Quinn out since she and her roommate are planning to go camping and she wanted them to be safe.  Zoe was the least 'reactive', with the collar causing her to shy away very quickly, but didn't induce any acrobatics:

For the second exposure, the dog is brought near a cage with non-de-fanged snakes, which have their rattles free, so the dog is oriented again to smell, and then to the sound of the rattler.  Zoe was already having none of it:

Quinn was a bit more energetic in her reaction to the collar: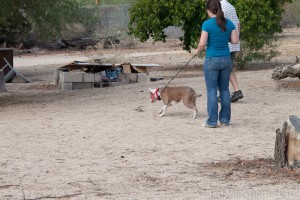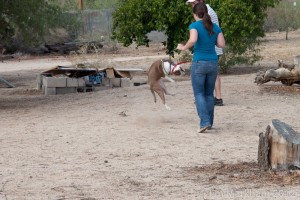 She got a little too interested at the 2nd set of snakes, and needed some more correction: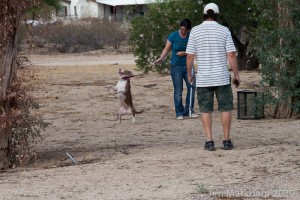 Afterward it was all okay though: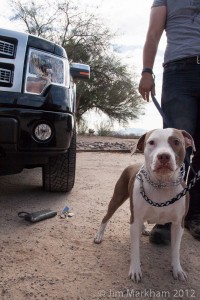 Now I've been saving the pictures of Angus for last, even though he went first through the training, as he was most definitely the most 'reactive' when the shock collar got used.  He is a bit of a bonehead, and even needed correction at the 3rd exposure (back to snake #1 in a different location for a re-check)… though at first he didn't even notice the snake:

Moments later, he noticed the snake, and it noticed him (he got bit on the nose, which still hurts due to the snake having their 'regular' teeth, but isn't dangerous because they have no fangs to deliver venom).  Combining that with the electric correction….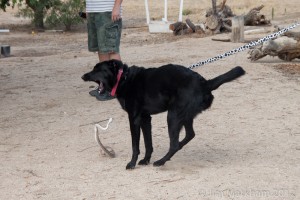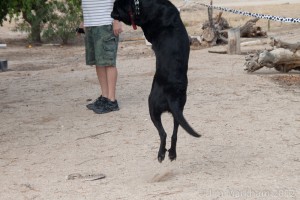 He didn't like the cage, and got overly interested at the 3rd encounter, which elicited another correction and bit of acrobatics:

The trainer gave us the opportunity to come over closer and was kind enough to show us the difference between the Mojave and Western Diamondbacks that he had.  The Mojave rattlesnake is somewhat greenish underneath, but the quickest way to tell them apart is to look at the black and white pattern at the end of their tails, just before the rattles.  The Western Diamondback has roughly equal areas of black and white:


(this one was the smaller one which had been de-fanged and had its rattles taped)
The Mojave Rattlesnake has much more white, so the black areas are readily visible as being smaller than the white ones:


(This one was NOT de-fanged, which was okay for me since I was shooting at the LONG end of the lens…)
In non-snake related news, I recently did some more work on the Ninjette.  I managed to pick up a cheap used Givi topcase adapter, albeit for a FJR1300, which will work to mount the topcase from the Concours on the Ninja.  I'll need to modify the rack and mount plate when they come in, but went ahead and pulled the cover and padding off the rear seat (I still have the stock rear cowling to cover the hole when I don't have the case installed) so as to start mocking up the install.  it should work pretty well, and I'll be able to use the backrest on the topcase to lean back against while I'm riding: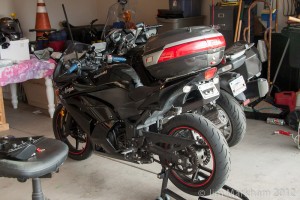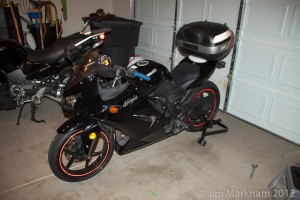 Astute readers will also notice the other 'gear' reference: I relief cut the front sprocket cover to swap the front mount on the gearshift linkage and set the bike up for GP-shifting:

It still doesn't have reverse gear like the Ninja dog…