The Kawasaki Zero to Hero challenge has come and gone.  Bottom line up front, I broke out in the finals vs Ms Angie Young and did not win a new motorcycle. With that out of the way, I had an unbelievably awesome time, and here's the story of my week.  I'll start with some notes on bracket racing terminology, give a short breakdown of each of the three days, follow with a synopsis of the instruction given by Rickey Gadson, mention a couple of lessons I've learned from the whole experience and thank a BUNCH of people, and then close with all the pictures.
By way of introduction, I should note that Kawasaki brought LaDon H (the 5th place semifinalist) out as an alternate for the contest, in case one of us was not able to qualify for our NHRA Bracket ET license.  Also, a film crew from FUSE was there shooting the whole event for future episode(s) on Speed TV, complete with off-track interview and such.  I hope I don't come across as a complete ass… although for those of you who know me you understand that may not actually be possible 😉 .  I had fun, and while at times I got frustrated over mox-nix BS, I really couldn't have asked for a better experience.  Like Rickey said a couple of times, when the lights drop, the BS stops… and I'm really glad I got to give it my best shot.  At this point, I should define a couple of terms so my non-drag-racing friends will understand some of the terminology I've become familiar with over the past week, and so the rest of this post won't sound like gibberish.
Christmas Tree: The starting lights between the lanes.  When a rider pulls into the first light beam on the track, the top light illuminates, and the rider is pre-staged.  Once the front wheel rolls into the second beam, the next light illuminates  (first light will stay lit) and the rider is staged.  Once both riders are staged, the three next yellow (single) bulbs tick down at 1/2 second intervals, followed by the green at the same 1/2 second time interval.
Red-light: Leaving the starting line before the green light illuminates, otherwise known as 'jumping the start', causing the red light at the bottom of the tree to come on.  A red-light is an automatic loss, and should one rider break out and the other red-light, the red-light rider loses.
Dial-in: The elapsed time (E.T.)  a rider predicts that they will be able to run.  The goal is to start the timers the instant the green light illuminates (also known as cutting a zero light), and then run as close to the dial-in E.T. as possible without going any faster.
Breaking out: Posting an E.T. lower than the dial-in time.  Also a loss, unless the other rider red-lights.
Conditions for winning a bracket race:
Did you red-light?  If yes, you lose, if no, see next.
Did you break out? If yes, you lose, if no, see next.
Did you cross the finish line first?  If no – you lose, if yes – you win!
Day one:
After the initial riders meeting at dinner the night before, we arrived at the track just after noon.  They had a couple of hours of classroom time covering the basics of bracket racing, some of the modifications that had been done the class bikes, and some general techniques for clutch and throttle for launches.  The film crew took a good while setting up, which was somewhat annoying, but we all got used to it.  We moved out to the track and got suited up in our new Speed and Strength duds.  SS2000 helmets, Twist of Fate 2.0 one-piece leathers,  and Twist of Fate SX 2.0 gloves.  They had loaner boots for everyone, but I had brought my own race boots, so I wore those.  We went out for some initial shakedown runs, during which the traction control system on the 14R really impressed me.  Like the multi-compound MotoGP tires from a number of years ago, these sort of technologies eventually trickle down into the 'regular' models from the flagships, and are a good thing for bikers as a whole.  I've got all of my time slips for the week, and will be dumping all my times into an excel spreadsheet to do some numerical analysis on how I progressed.  Consistency was the key, and I think I managed to pull that off.  During some of the runs Rickey attached video cameras to the front or rear of the bike to catch our throttle or clutch hands, and show how we were using them.  Even before the end of the first night, I managed to run a quicker 1/4 mile than I had ever done in my life, an 11.15.  The funny thing was that was only run 'full' out to about the 330′ mark, and I then cruised through the traps at 99.6mph.  The 14R is frighteningly fast.
Day two:
Back to the classroom, this time to review some more techniques, and go over the onboard video.  Based on the vids, I had good clutch control, but wasn't getting in the gas nearly as early as I thought I was.  When we went back out to the track, Rickey explained the timing system and then showed us how all the timing lights exactly work, which was very instructive.  I was totally unaware that there is about 18″ of space between the point at which the first light turns on, and the point at which the 2nd staging light turns off, starting the clocks.  He explained shallow and deep staging, and with the example of the runout, it was very evident how front tire position affects things like reaction time (R.T.) .  The afternoon runs concentrated on repeating what we had done the previous evening, and working to improve on the areas pointed out during class.  We put in a lot of passes on the 2nd day, and I was really happy with my consistent performance.  I didn't have the quickest reaction times, but ran pretty regularly in the 0.20's, which according to LaDon and Shawn wasn't bad.  The evening runs were all of our required runs for NHRA licensing.  At the Vegas track, due to altitude, that meant we'd have to run a pair of 10.15's or better to qualify.  I was getting a bit frustrated at myself since most of the other guys cut into the 9's but I was stuck at around 10.40… until I realized that I was still running in low power mode.  I asked Rickey about it when I got to the line for my next run… "I was just waiting for you to show me you were ready…" – Full power mode enabled, I ran a 9.70!  3rd gear wouldn't engage (not sure if I had my foot over the shifter or the air-shifter tank valve was acting up again) on the next run, but on the 3rd run after getting full power unlocked I was official, and managed a couple more 9-second passes that evening.  Everybody qualified, to include LaDon.  Robert ran in the 8's.  Yes, you read that correctly… I got into the mid-9's, and Robert busted into the 8's at over 150mph… Wow.  Just wow.
Day three:
Race day.  Morning started with three practice runs to get our heads right and see how the traction was.  We then had four qualifying runs, with the twist that the lowest reaction time (R.T.) would set our qualifying order, instead of lowest E.T..   I had my first red-light of the week, a -0.007,  and then managed a .090 to qualify third.  This paired me with Shawn, which concerned me most because we would be dialing in similar times, and I knew that his previous experience would serve him well under pressure.  Fortunately for me, when I broke out (ran faster than my dial in of 9.85) against him, he had already red-lighted, meaning he gave me the race.  Robert also red-lighted against Angie, which set up a final race I would never have expected.    During that morning's runs, I had been in an ongoing discussion with Brock Davidson (of Brock's Performance) about bracket racing in general, and some techniques.  Since I knew I had run at least as fast if not faster than her thus far that morning, and had broken out for the previous run, I dialed in the same 9.75 time she did for the final, knowing I just had beat her to the other end.  After my burnout,  I rolled forward and immediately staged the bike, waiting on her to pull up.  She managed to holeshot me by around .030, but by the 60′ mark I was two tenths ahead, and just kept pulling away from there.  Since I knew I didn't want to break out, I looked over around the 1000′ mark, and she was nowhere to be seen, so I sat up and rolled out of the gas, clearing the 1/4 mile speed trap at 134, instead of deep into the 140′ s where I had been running.  Apparently, under pressure I do pretty well, and unfortunately in this case I did better than I had all week.  So well in fact, that even after looking over, sitting up and rolling out of the gas, I still managed to break out by just over a tenth of a second… and the rest is history.  I knew I'd had a good run, and knew I just needed to be ahead by a 1/2 bike length at the end, but didn't realize I'd gone that fast.  That's bracket racing!
Overall thoughts on instruction:
As I said repeatedly in front of the cameras, Rickey Gadson is a very, very good instructor.  And I can say that confidently based on the number of instructors I've been exposed / subjected to over my career.  He remembers what you did 3 runs ago, 2 runs ago, last run, and can remind you of just enough to work on for this run that you can manage to fix what he tells you to without running out of mental space.  Racing in general is very mental, and being consistent allows you to add or remove variables in order to determine whether or not you can go faster.  Keep doing things the same way, and he can tell you which things to change, in which order, to be able to run faster times.  The classroom slides were sort of generic, as the real benefit to going was getting to have a drag-racing master observe your runs up close, and tell you what was working, and what wasn't.  For one particular run, Rickey told me to forget my feet, and just get X, then Y, then Z done.  I nailed all three of those things, and honestly have ZERO recollection of what I did with my feet during that run.   The big end is nice, but there's a lot less skill to running in the 140's on these bikes at the top end than there is to getting out of the first 60′ quickly… E.T. is all on the front end, and he knew how to get that across.  At one point on the first night, I actually had full power mode engaged and was launching the bike through the first 120′ or so with the traction control turned off, which in my head is just mildly insane.
Things I've learned,other anecdotes, and thank-you's:
As much as anything else, this experience reiterated to me that I have the right mindset for racing.  Sneak up on fast, by gradually improving and increasing skill and confidence, and you can do so in a fun and safe manner.  Additionally, I've continued with my lessons in restraint, though I still have a tendency to wear my mood on my sleeve.  I'll be really interested to see how the whole thing shakes down on video after the editors get their crack at things.  As for future bracket racing?  Probably won't do it, mostly because I can't resolve the cognitive dissonance caused by being able to lose by putting in the fastest run of one's life.  Straight up drag racing?  Definitely going to do it.  I'll also take any road race bikes I've got to the dragstrip to work on race launches, and cannot begin to thank Rickey enough for the advantage that's going to give me going into turn 1 on a road course.  The Kawasaki folks (who I haven't mentioned yet) were all awesome.
First off, I have to thank Kelly for coming along and supporting me.  This was the weekend she would have walked at graduation (because there's no ceremony for summer grads), and she gave up a lot to be there.  I promise never to use the things Rickey taught me on the track while you're on the back of the bike 😛
Shelby and David: It was really great to see you guys, I was stoked that you made it down.
Aimee and Bob from Kawasaki PR:   As I told both of you, everyone was really great about working with all of the finalists and helping us get through the flight delays, hotel check-ins, etc, etc… Thanks for setting up a great event.
Tom, the  'Mayor of Zero to Hero':  Thank you for the oversight and your qualifying by R.T. twist… it kept things interesting.
Chappy and Luis:  Thanks for all the help with bike setup, and keeping everything running for everyone.
Meghan (sorry if I butchered the spelling):  Thanks for keeping the interviews straightforward.  I was really paranoid about the whole 'what I do in the Army' thing, and you helped me feel comfortable just being another dude in a contest to race motorcycles.
The rest of the Kawasaki crew, FUSE camera and sound guys, Las Vegas Motor Speedway staff, catering staff, drivers, etc:  Thank you for all the support keeping us hydrated, photographed, videoed, transported, and fed.  You all did a great job of keeping all of the background stuff in the background, and allowing us to focus on learning to race.
Brock Davidson and Troy Siahaan: Thanks for letting me talk your ears off during your interview with me after the races.  The safety thing is a big deal for me, and whether or not it ever gets printed, I'm glad you asked the follow-on questions about it.  Also Brock, thanks for the compliment about my deciding to run Angie heads-up in the finals, it made me really proud.
To all of the people who voted for me, facebook pimped me, shared with friends, told co-workers… to include the staff at Sierra Cycles here in SV and RideNow Powersports up in Tucson: Thank you for supporting me and by your votes assisting me in getting this incredible opportunity.  It was an experience for which I will be forever grateful.
Finally, Rickey and Kiana Gadson, and Ashon Dickerson: Thank you for all the instruction in the classroom, and the oversight and assistance out on the dragstrip.  As I have a tendency to say to folks who have helped me out along my path, thank you for helping me to suck less.
Finally… the pictures!!!  Kelly shot the hulking majority of these, so I've adjusted my standard watermark on them to account for that.  She got some really, really good shots over the course of 3 days.  I'm proud of her for being such a trooper and capturing it all on (digital) film so I can look back in the future.
Rickey kitted out for our first track session:

All of the contestants:

Rickey showing us how to read the track:

Rickey's first good pass of the day, preceded by a burnout… he ended up running 9.14 at 148mph…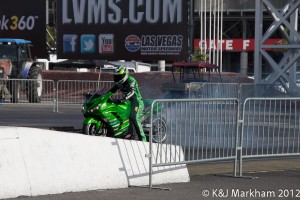 Our helmets had our names on them, but since Shawn and I looked similar while seated on the bikes,  they ended up adding my name to my leathers and extra Kawasaki stickers there and to my helmet by the end of the 1st day.  The S&S lids were nice too:

Rickey pointing out the shut-down area at the end of the hill after the track for Shawn:

The FUSE TV sound guy's 'old man walker' for lugging all the radio mic receivers around.  I had to get Kelly to take a picture of it, it looked pretty funny:

Smokin!

My first 'from the starting box' pass:

Kelly is getting a pretty good eye for shots: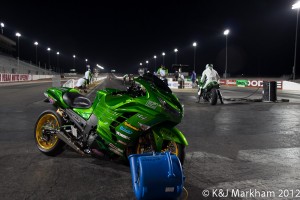 Me getting some more instruction at the end of the first day:

Talking to the cameras:

Getting some more tips (note the name and 'K' stickers on my leathers, and the extra 'K' on the back of my helmet):

Gratuitous burnout shot:

Beginning of day 2 track sessions.  Rickey figuring out how much traction there is (note smoking tire, indicating a lack thereof):

You know what the difference is between you and me? I make this look good…

Ashon Dickerson showing us how it's done:

Yes, that is Brock Davidson himself helping with bike setup.  Serious thanks for that!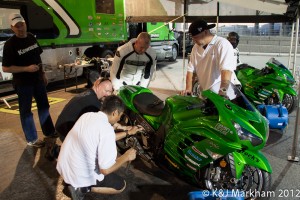 Another 'Kelly got a good one' shot, this time during NHRA License qualifying:

Conferring about my times after I completed enough runs to qualify for my ET Bracket license:

Race day:  Waiting for practice runs first thing in the morning:

Yes Rickey, I read the track from back there… I paid attention! (Can't thank him enough for the instruction.  Really can't.)

Finally, I'm launching hard enough to hang a wheel:

And this would be considered excessive wheel hang…


The pro photographer that was there for Kawasaki, as well as everyone standing around was amazed by this shot.  Kelly did good!
Rickey brought out his race bike, a 2012 ZX-14R with lowering links and a front-end strap.  Otherwise, the bike was bone-stock, to include the potato launcher exhaust cans. And then he ran a 9.46 at 147mph…

Robert and Angie staging for the first elimination round:

Experienced racers will understand how insane the timing of this picture is:

For people unfamiliar with the timing system, I'll explain the lights: The top light is out on both sides, indicating that both Angie and I have started our run.  The second light on both sides is on, indicating that we have not cleared the staging lights (which starts the E.T. clock).  All the lower yellows have gone out, but the green has not come on, which means we're both moving after the last yellow went off, but before the green came on.  IIRC she ran a .05 light, and I ran a .08, both less than a tenth of a second from red lighting.  And then I went too fast, and as I said earlier, the rest is history.
Late edit:  The Kawasaki PR folks were great and got us hooked up with a bunch of the shots their photographer took during the event… as such I think it only fitting to post my 'Hero Shot' from the promo reel: