Went TDY to San Fran to visit one of my Soldiers.  Any time a Soldier from a WTU is inpatient at a non Army Medical facility for more than 30 days, we are required to send representatives from both the C2 (command and control) and M2 (medical management) sides of the house.  Who, why, etc, etc, I won't get into (for HIPAA reasons), but being in SF did afford me the opportunity to see a couple things since it was my first time out there.  Got there on Monday and met with my Soldier, then had that evening to go check stuff out.  The flight up didn't route us through Phoenix, but instead we headed through Las Vegas.  Here's about all I saw of the strip as we were leaving..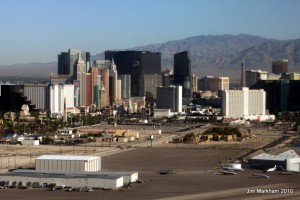 Just up La Honda road from where we were staying in Palo Alto there's the world famous Alice's Restaurant.  Not too many bikes out as it was a bit brisk on an autumn evening, but there were still a couple of pretty ones: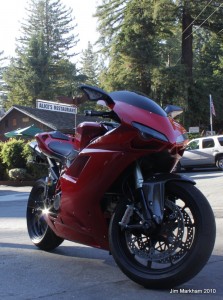 And of course one can't very well "see the sights" in SF without a visit to the Golden Gate Bridge.  Here's the obligatory 'I was there' picture: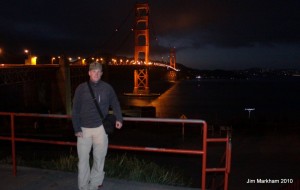 And a much better shot of the bridge alone without my ugly mug in front of it:

The following morning we headed over to to a local VA facility where the unit has sent Soldiers in the past.  Since it was only about 15 minutes from the hotel it made sense that we stop by and get the dime-tour of the place so I'm familiar with the location and program there should I have to send any more Soldiers in the future.  While there, I didn't have the big camera I'd been lugging everywhere else, as I had left it in the car.  However, the camera on my cellphone does a pretty decent job, especially when something this cool looking is involved:

My traveling companion on this trip was the WTU social worker, who happened to have a friend who works at Apple in Cupertino.  Conveniently, that was between the morning VA visit and the airport, so it only made sense to arrange lunch at the Apple campus.  Surprisingly, this was parked in the visitor's lot when we arrived:

Yes, that is a V10 Audi R8 supercar.  In the VISITORS lot… Wow.
Inside they had a really cool display which links into the app store through iTunes and displays a color (ROYGBIV) sorted visualization of the apps currently being downloaded.  Not surprisingly, about 2/3 of the blue apps were Facebook.  When the displays would fill up, the whole stack would cascade off the bottom of the screens and the app icons would rain down again, filling the wall: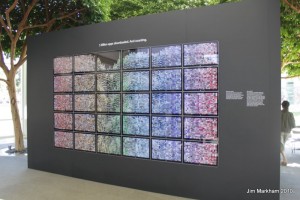 On the way out, I noted a very cool safety feature of the campus:


Makes a lot of sense.
Here's a little hint I learned from an Army CPT when I was an AF 2LT:  If a rental car is authorized on your orders, any upgrades only cost you the difference out of pocket.  Case in point: upgrading from the econo-box I had originally been scheduled to a convertible cost an extra $25 a day, which came out of my pocket.  I personally think it's well worth the $25 bucks a day to upgrade from some POS to this:


When I found out they had 2011 Mustangs, it was a no-brainer.  The 305hp V-6 was faster than my Ex's old '98 GT convertible.  By a good margin 😉
The flights afforded me the opportunity for a couple more cool shots.  This one was as we landed in SF, just before the plane dropped through the clouds: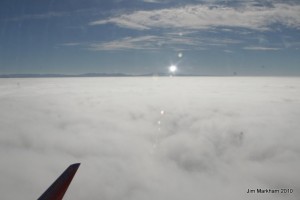 This church caught my eye as we were landing in San Diego on the way home:

And lastly, one of the carriers was docked in San Diego, so I had to take pictures of that.  I really wanted to try and get some better shots, but given the way we took off on the way back to Tucson, we were a couple thousand feet up when we circled back and I couldn't get any decent shots out of my window.  However, on the way in, I managed to snap this shot through the window across the plane as we were turning to line up on the runway: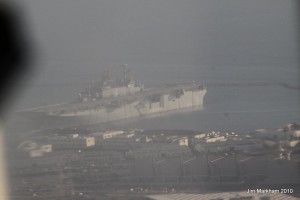 Better to get a blurry shot from across the aisle than no shot at all.