Been a little while since I've jumped on here and posted some photos, and I've had some decent ones. A couple weeks ago we went to Tombstone for the local "Tuff Enuff" bullriding event. Since it kicked off (no pun intended) just as the sun was going down, getting decent photos was somewhat difficult. I still managed to get a couple of good shots. Hopefully I'll get some good rodeo photos Labor Day weekend (two rodeos that weekend, both during the daytime), but here's the best ones from Tombstone: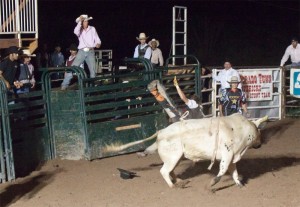 This guy didn't get very far out of the chute before he got tossed.

This guy ended up winning the event.  Had a pretty good ride, and I think would have done at least reasonably well at the PBR event I saw in Texas a couple months back.
After Tombstone on Saturday, we decided to go for a walk down by the San Pedro, on the old pulled-out railroad tracks.  We started out walking along the river, but once we ran into a string of stupid people with screaming kids playing in the water, we thought it would be better to just head back up the hill to the railroad pitch.  Nothing fancy here, just a decent shot of a bush with clouds in the sky.  Speaking of the clouds, it started drizzling about 10 minutes after this photo was taken, which caused us to head back to the car.  Just as we got there, the bottom dropped out of the sky, so I don't regret any other photos I may have missed…

The following weekend we went up to Apple Annie's in Willcox to pick peaches, apples, and assorted vegetables.  This tree inspired my facebook post about 'Millions of peaches"…


It was a bit nuts, as some of the peaches were so ripe they'd fall off the branch into your hand as soon as you touched them. Mmmm.
Fast-forward another week, and it was hot tub retrieval time!  Kelly's grandparents had decided to get rid of their hot tub, but hadn't told Kelly… so when they asked if she wanted to see 'the new garden', she was a bit annoyed.  "Where'd the hot tub go?"  "We had someone come haul it to the dump…"  "But it worked fine!"  Needless to say this caused her to search craigslist rather frantically for a couple of weeks looking for one we could get cheap.  Not too long after we started looking, we found this one listed for $200, and it's a solid plastic body (easier to move), and runs on 110V vs 220V(don't have to wire in 220 at the house, I can just plug it in!).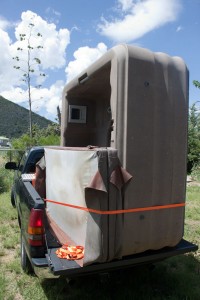 Loading was easy with the guys uncle and brother around, but once we got it here, we were a couple dudes short.  A couple quick phone calls and I was able to set up the standard "Fermented grain beverages and charred animal flesh in exchange for manual labor" deal with the new LT from work and his roommate.  Voila!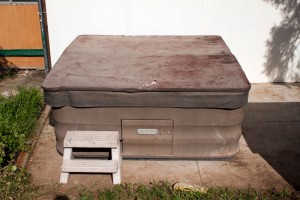 It's going to need a new cover, and I had to wire in a power cord (previous owner had pulled the power cord and hard-wired it at his house), but it's here, and for $200, I think I can handle a little elbow grease to get it set up.
Lastly, I've got another shot in my developing series of moon photography.  I got the old laptop (single core Celeron with 512mb of memory… eek!) Kelly brought down for this specific purpose talking to my camera, so now I can do live view from the camera on the laptop screen.  With the Canon EOS software, I can also control the focus mechanism on the camera, and can micro-adjust everything while looking at a 100% crop of the image on the screen.  I didn't realize this until I could see this full-size while I'm taking the shots, but full-moon photography is kinda boring and 'flat'.  No shadows, no depth, etc.  Didn't think about it until doing the shots, but the reason for that 'flat' appearance is because with a full moon, the sun is (for all intents and purposes), directly behind the shooter, meaning there are no shadows being cast on the face of the moon by the landscape features there.  So, after getting the technique down with regard to doing minute focusing, now I can wait for a mid-phase time the moon will be out after dark (and before pumpkin-hour) for some more interesting follow-on shots.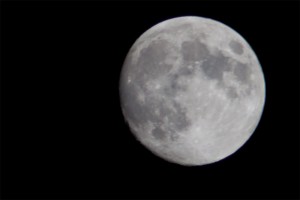 Hopefully I can get back in the habit of jumping on here and getting updates posted in the near future.  It's been a weird couple of weeks at work, but I think I've cleared the worst of it, at least for this surge of strange.  Such is life.