Managed to get away to to PA a couple of weekends ago.  Had a good time hanging out with family on their way through, and we got to check out Amish country near Lancaster.  Since I took leave, we had a 4 day weekend to bum around.  We went to Bird in Hand just outside Lancaster and did an Amish buggy ride on Saturday, hit up the Hershey factory on Sunday, and stopped by Gettysburg on the way back to the DC area on Monday.  Since I knew we'd be away from most city lights for the weekend, I packed the scope along.  I had sighted viewed Saturn before, but hadn't yet tried to get any video to stack for an image.  Seeing was not very good, but I was still able to get still enough air for a one minute video (didn't hook up ByEOS, so no good digital zoom), and with some further refinement and stacking I got this: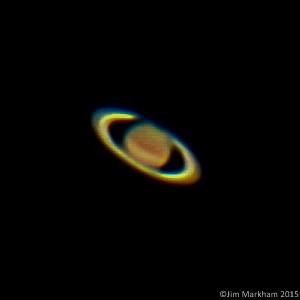 Taking pictures of the setup in the dark is always problematic, as the dSLR which could be used for a long-exposure shot is in use imaging the stars… so  I try with my cellphone.  Sometimes it's better than others:

With a little luck, Andromeda wasn't drowned in the light pollution on the horizon, and I was able to get my best stack to date: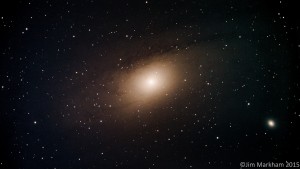 Only one night out with the scope, as sleeping in wasn't a good option.  Oh well, hopefully I can get a some clear, dark skies near the house at some point this fall.  It's not like our evening activites during the other nights were any less cool than stargazing:

Daytime activities were good as well. The buggy ride was great, and our driver was very good at answering questions (and fending off someone trying to grab the reins…):

The two horses were very good with cars and other buggies going by, as well as with a couple of under-muffled Harleys that went blasting past. The grey was quite striking:

Maddie loved hanging out with her cousin, and he loved being helpful and leading her around:

And of course while we ate lunch by the train tracks near Hershey Park, he had to stand up and look out the window every time a train came by:

I need more quiet weekends like this one.