So, where to begin?  The Facebook algorithm does a fairly decent job of picking some representative pictures from your year, and then setting up this "Jim's Year" scroll-through.  Which is fine, except that it grabbed the Christmas photos from last year that my brother posted in January (after they got back from Hawaii), and thereby started the 'year' off all wonky.  So, in the spirit of wanting to conform, I clicked on the 'customize' button, only to find out that their 'customizer' didn't allow me to move groups of pictures forward or back in the year, just delete and add at the bottom.  Which means for each incorrect block, I would have to delete that one, or just edit every single group of pics to actually conform to a chronological format.
Eff. That.
So, in the spirit of "I have my own blog and can write my own words thankyouverymuch…", here's a recap of the last 12 months:
First things first.  I've been taking pictures of the odometers on both bikes every year and putting them up on the blog as a way to document how much riding I managed to get in each year.  Last year I started at 21,141 miles and 13,935 miles for the Concours and Ninjette, respectively.  Fast-forward a year, and I've got the following:

That's 29,585 miles and 14,012, for respective miles traveled of 8,444 and 77 miles, and a grand total of 8,521.  Not horrible, considering the bike was in transit for nearly 3 months,  and I was stuck on an island until June. I would consider 10k/yr a 'normal' average for the past 14 years or so, with deductions for time spent PCSing, or when I was in Iraq.   Incidentally, due to a missed exit and a 14-mile detour on the way home from work yesterday, I've already put 75 miles on the Concours this year, 2 miles shy of the Ninjette's entire 2014 total.  I MUST get to the track.
In January I got a couple of cool helicopter rides (a benefit of sitting next to the guy who handles all the DV visits), and managed to haul the camera along ("Are you PAO?"  "No, I just like taking pictures…").

A little later in the month, Kelly and I hopped over to Kauai for a baby-moon trip prior to the arrival of the bundle of sleep deprivation.  If you're in the mood for a Hawaii vacation, skip Oahu, and head over to Kauai.  Especially recommended is Capt Andy's Na Pali coast tour.  We didn't get to the Na Pali coast due to weather, but it was an amazing trip nonetheless.

We got back to Oahu, and then the waves came… They were considering holding the Eddie, but the waves were too unpredictable.

Folks talk about the calm before a storm, but when the sun comes out after something like those 30-50 footers smashing the beach, it's pretty special.

Unit surf PT continued, and I capitalized as much as I could, knowing opportunities would be limited once the baby arrived.  I toted the camera along a couple times, and what I consider to be one of my most iconic shots of a Hawaiian beach: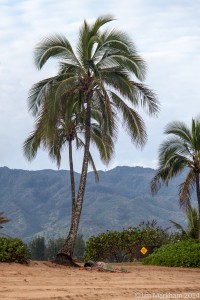 (Yes, that is a homeless guy sleeping under the tree.  Hawaii is hugely bi-polar like that sometimes.)
Speaking of sleeping, I stopped for a while: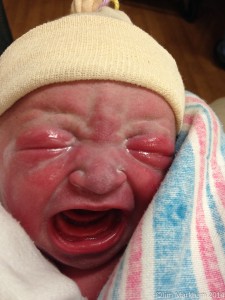 Breathe, breathe, take time to smell the flowers…

Shortly thereafter, it was time to leave Hawaii.  As elated as I was then, that has tempered somewhat, and there are some specific things I do really miss about being there.  Getting out required that Hollie get her first ever rabies vaccine… which didn't go well.  She swelled up like a balloon, and had to get shots to get the inflammation under control.  We'll be sure the vet is aware ahead of time when her booster comes due.  Poor dog.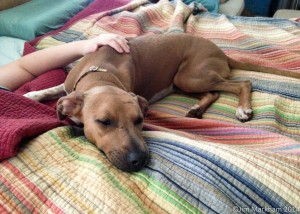 Of course, with PCS season upon us, it was also time for the 25ID CG to swap out.  The new commander was adamant that we didn't advertise the capability to perform missions that we weren't ready for… which resulted in having to drag my bags to work after I'd already unloaded all of them into my tac-boxes for shipment.  Run back to the house, re-pack, haul ass back to the unit… and yes, I had my dog tags.

On the way out the door I managed to sneak in one more ride around the island, disguised as an assist on the USARPAC summer safety ride.

I also managed to get Angus to the beach to hang out with Uncle Chuck and Halia one more time before we left.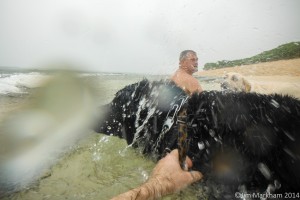 Hawaii was a crazy place.  Swimming in the rain (that wasn't cold), dogs and cats lying down together… Egads!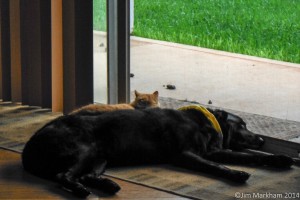 After 6 weeks in class, I finally got back to the 5-sided wind-tunnel.  Not my first rodeo, but it was a huge year of firsts for the little one.  First time in the Pacific:

First baseball game:

First horseback ride:

First Red Sox game:

First pumpkin patch:

First apple:

First Halloween:

First Thanksgiving: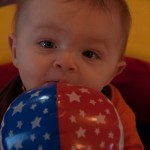 First trip to Disney (Downtown Disney in FL):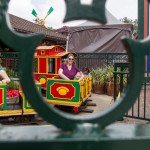 First time in the Atlantic: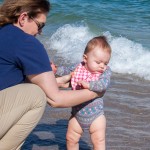 And of course, the first naked in the bathtub photo:


(this one selected for modesty, of course…)
I got some great astrophotos this year, to include two lunar eclipses, my first look at another planet, a nearby galaxy, Orion's Nebula, and my first attempt at a high-res composite of the moon.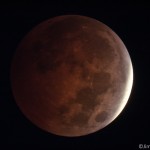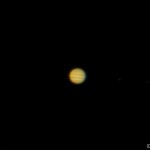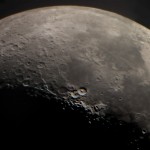 We had some expected travels, and some unexpected ones.  I had to drive back to Dayton to clean up the mess the renters left when they split, and we had to fly back to Tucson when Gammy passed away.  We were fortunate enough to have done a 4-generation photo when we were headed through Tucson during our road-trip, and I know Kelly and her mom are glad we did.

It's been a long strange trip this year.   I'm very glad to be a decent photographer, since without the EXIF data from the photos and Lightroom organizing automatically by date, I'm sure I wouldn't have a clue as to when things happened.  Capture all that with an algorithm, Facebook!