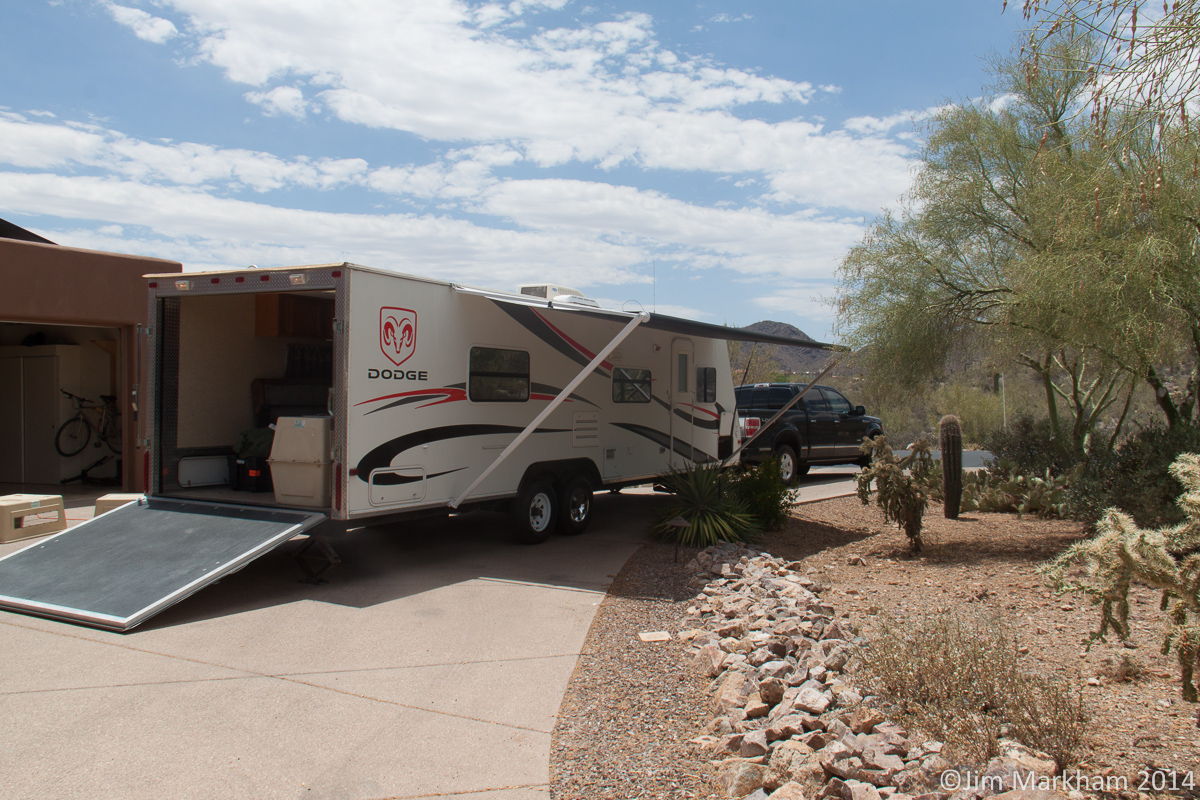 The great exodus of 2014 has begun.  We made it off Oahu without anybody dying, or me killing any TSA agents so we'll chalk that up in our 'W' column. The baggage total was 2 dog crates, 15 checked bags, 6 carry-ons (including the cat), a carseat, K, M, and myself.  All piled up outside the terminal in San Diego, it looked a little like this: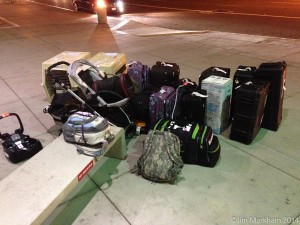 The road trip commenced, and I'm not sure yet if I'll be posting lots of pictures over here, or just the highlights, with the rest being put up over on facebook.  That said, we were happy to hit CA, and even happier to clear CA and get back to AZ:

Yes, I did managed to get everything pictured above packed into the bed of the truck for travel, and only had to break down one of the dog crates to do it:

For now, we've set up shop at K's mom's house, and finally got to see the trailer we bought this spring in person.  Yes, there are a couple of minor cosmetic things that irk me, but based on what we got and what we paid, I'm still happy.  I've got to get the weight distribution and sway control hitch all set up, but loading and prepping is going along fine thus far.  As a bonus, the trailer is even bigger in person than the measurements and pictures I'd seen online tended to implicate: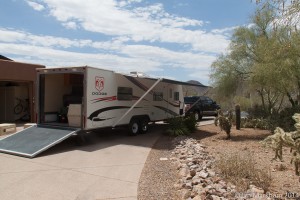 Yes, that is a Dodge-branded trailer hooked to our Ford, but we don't really care.  At some point I might get some race-team graphics genned up to slap over the Dodge emblems, but for now we're good.  The trailer is a Dodge D-300, which is the same setup as a R-Vision R-Wagon M300.  R-Vision (owned by Monaco) partnered with Dodge for a couple of years in the mid-aughties to re-brand some of their toy-hauler trailers.  Didn't really sell the way either of the partners wanted, and for some reason these trailers are actually blue-booked below the identically-constructed M300s.  Which, long term, turns into a plus for us since we were able to buy it cheaper than an otherwise identical non-Dodge-branded model.  We're heading to Camping World today and Bass Pro (in PHX) tomorrow to get the last couple of 'must haves' for the trip, and Friday we'll pull the trailer back over here to the house for final load-out.
In baby girl news, we've managed to get closer to Tucson time, but aren't quite back on whatever a 'normal' sleep schedule looked like before we left Honolulu.  I'm still completely clueless, but with the return (right before she hit 6-weeks old)  of 6-hour a night sleep, I'm starting to be more functional on a daily basis. We're still trying to work out the late-night and early-morning shift schedule since M isn't as consistent as she was in Hawaii, but we're not too worried since the upcoming 10-day road trip will inevitably mess that up anyway…