Okay, just to be up front about it, this post is going to have A LOT of photos.  I bought my 50mm f/1.8 lens specifically so I could try and take photos on some of the rides at Disneyland, and that's exactly what I did.  I realize in retrospect that I really need a ~30-35mm prime lens, as with the 1.6 crop factor on the T1i I'll end up with the correct 50mm "standard" perspective vs the 80mm short telephoto that 1.6 * 50mm on the current lens ends up being.  That said, I had a lot of fun shooting, and am pretty amazed what a little preparation can do for getting some pretty nice pictures.
To start, if you haven't driven out I-10 to Cali, an item of interest would be the windmill farm on the way out.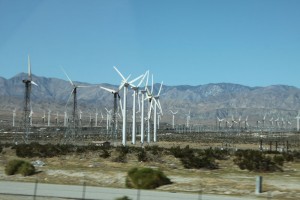 On the way in, we were looking very intently for whatever the first indication showing we were headed in the right direction:

Definitely in California:

Friday:
After racking out in our room at the Jolly Roger hotel (decent place at a decent price by the way), we headed over to the IHOP across the street from…

They had the place all decorated for the holidays:

We immediately worked our way over to Space Mountain to pick up fastpass tickets (definitely the way to ride!), and then milled about to kill the hour or so before our time started.  We went over to a car-driving ride (the name eludes me), and tootled around.  I had this peculiar grin stuck to my face, which stayed for the entirety of both days we were there.  Along the way we noticed a road sign I'd love to see on a real road…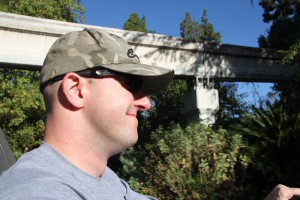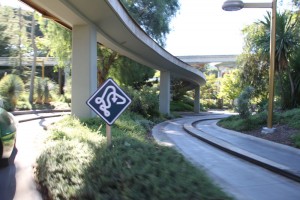 From there we went to the redesigned "20,000 leagues under the sea" ride, which was now centered around a slightly different Nemo: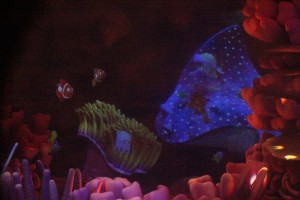 It is probably good at this point to mention that I brought along my f/1.8 50mm prime Canon lens for the indoors shots.  Very well sorted out lens, but on the T1I with the 1.6 'crop factor' magnification, it was really more like an 80mm short telephoto, which limited some shots.  Will have to invest in a 28mm or 35mm f/2.0 before going back so I can get that 50mm 'standard' perspective.  Very good lens though, and very fast for indoors shooting without flash.
While waiting in line, we noticed a kid who (as kids are wont to do) was more interested in playing in the dirt than the fact he was at Disneyland.   Kids are too cute!

Mine?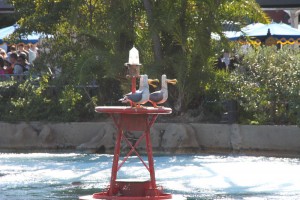 Next, we waited in line all the way around the Matterhorn.  Very cool looking: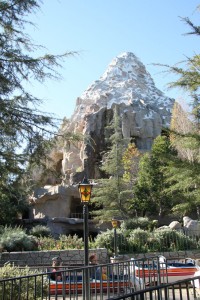 We still had some time before Space Mountain, so we headed over to Alice's ride through Wonderland: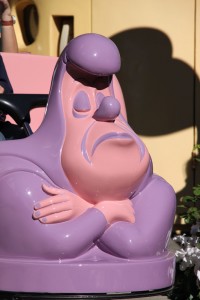 We then hit up Space mountain, and then came back over to Pirates of the Caribbean.  Updated from the original to include a couple appearances of Jack Sparrow, this was one of the best 'dark' rides to try out the new lens.  One of the other riders was actually admonished over the internal ride speakers for shooting with a flash… not me!   "Arr, no flash photography matey!"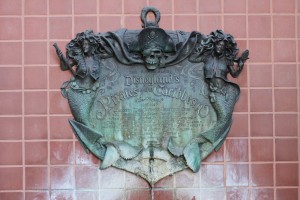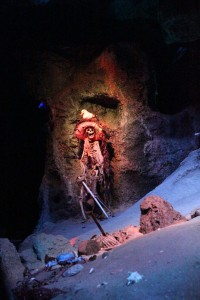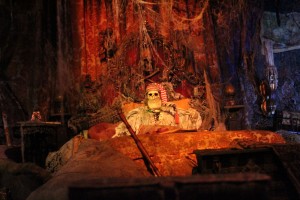 (Best shot of the day!)
From there we went to the Haunted Mansion, which had a bunch of Nightmare before Christmas clad additions… very cool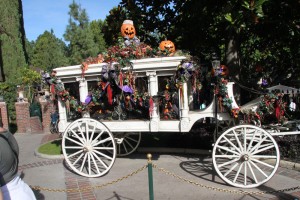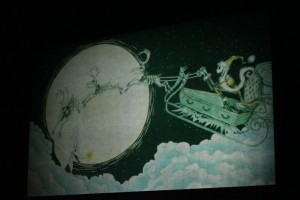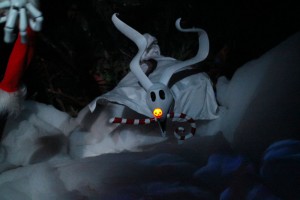 In the 'lake' surrounding Tom Sawyer's Island, there was a paddle-wheeler, and the much more interesting Galleon: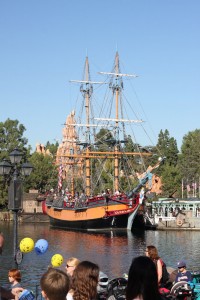 Shot from said galleon over toward Tom Sawyer's Island: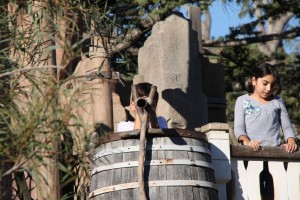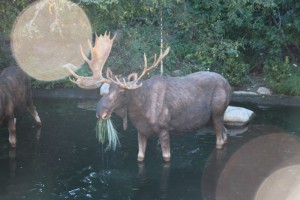 Indiana Jones was another ride where Fastpass was the order of the day.  Great ride, but so jerky that I managed a couple of pictures while waiting in line, and then one of the final vignette at the end of the ride…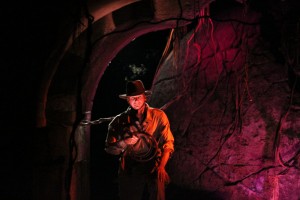 From there we stopped by at Pooh's blustery day ride: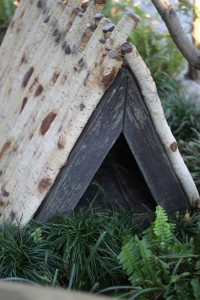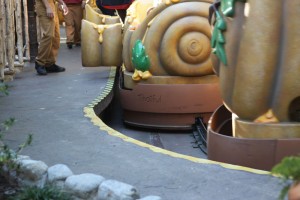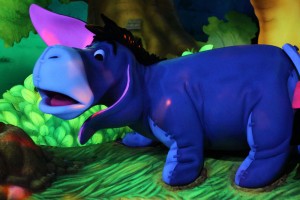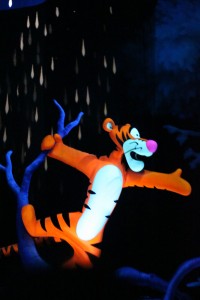 Pooh and Tigger both stopped by outside after we got out: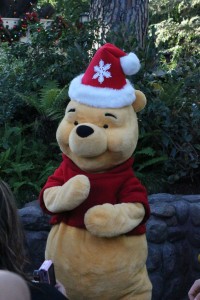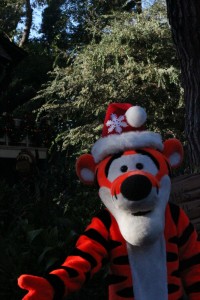 At this point we kept scratching our heads, trying to figure out what was missing.  Heads… Oh yeah!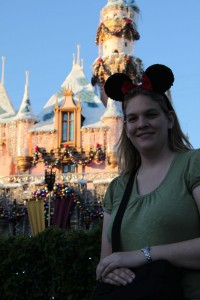 Heading over toward the back of the castle, we found ourselves in Mr Toad's neighborhood: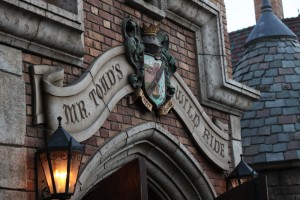 The ride broke down while we were in line, but the cast member there took good charge, got everything sorted out, and had the line back moving very quickly.  Serious props to her: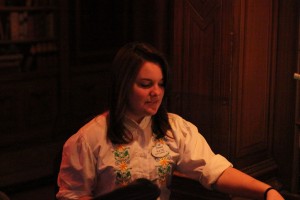 We then noticed we were close to the entrance for It's A Small World, and thought we should go over there before heading to our dinner reservations at California Adventure.  As we got into the line, we noticed some folks milling about on a stage, and then found out that they were officially switching on the Christmas lights!  Mickey showed up and helped the little girl who had been chosen to kick off the holiday decorated season for the ride.  Very lucky timing indeed!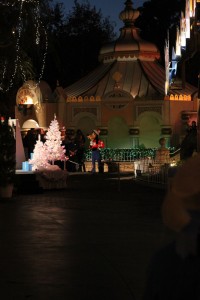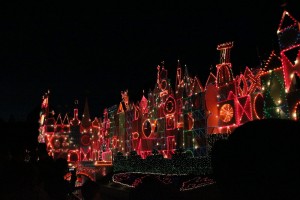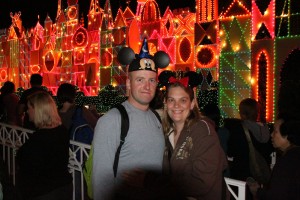 Woody and Jessie made an appearance: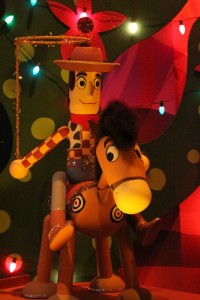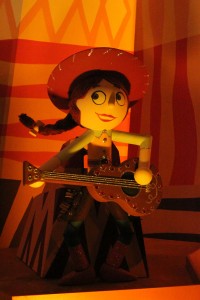 Night had fallen, and so we walked over to California Adventure, where we had dinner reservations at Ariel's Grotto.  Most highly recommended, and also a good way to get into the preferred seating area for the World of Color Show.  They have some couple thousand water jets in the lake in the middle of California Adventure, and do both projected light and lasers onto fountains, but also run multiple misters in a big line, which creates a virtual screen which they can project movies and moving images.  Very, very cool concept, and far better in person than my hack amateur photography begins to hint at.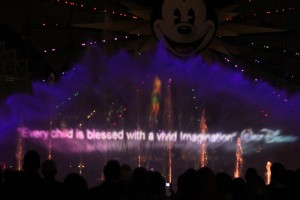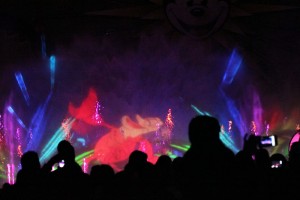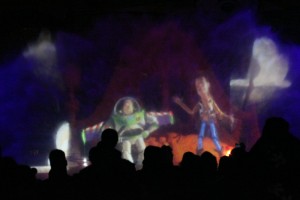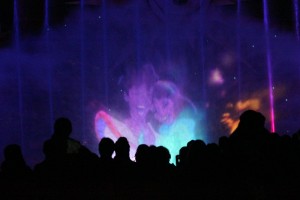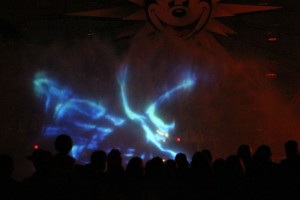 Saturday:
Between our two days of Disney, we were going over to Kelly's grandmother's 80th birthday party.  The party wasn't until the afternoon, so we headed over to Seal Beach since I hadn't ever been to the Pacific: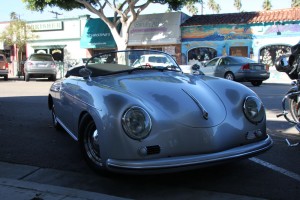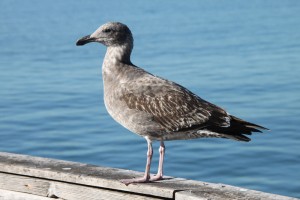 The party was fun, mostly because of the youngins around: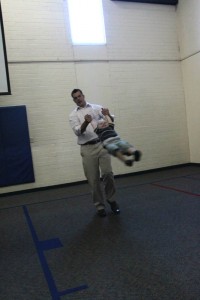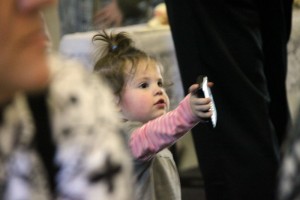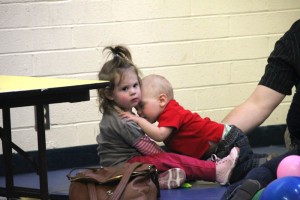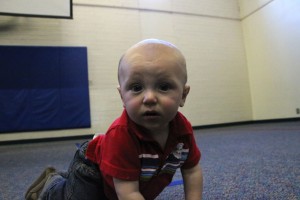 After the party we went over to Downtown Disney for some food and general milling about: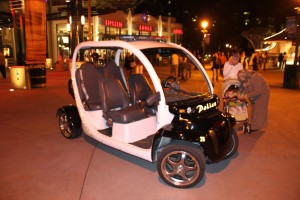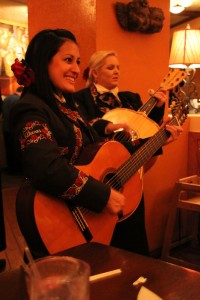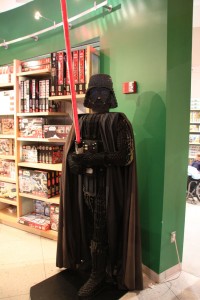 Sunday:
While we were at Grandma B's party, we convinced Kelly's brother and his fiance to come with us to Disneyland for our 2nd day. We noticed more Disney characters out and about on Sunday: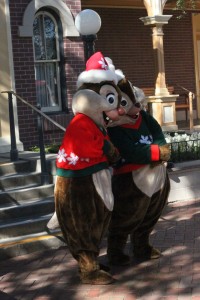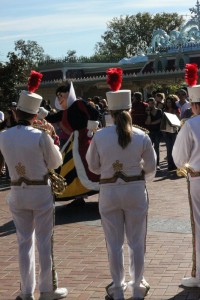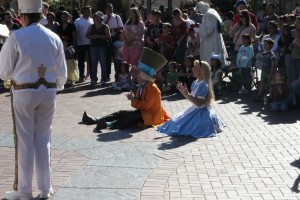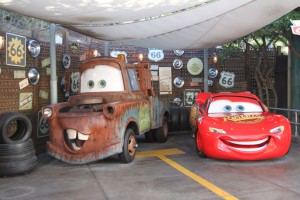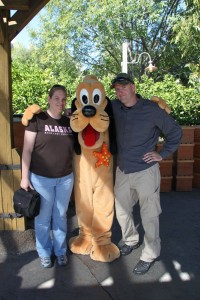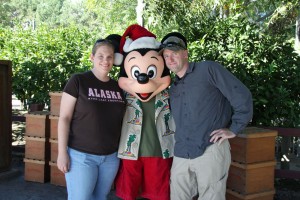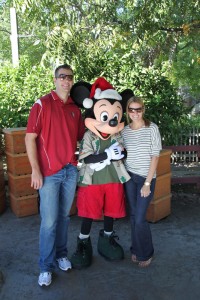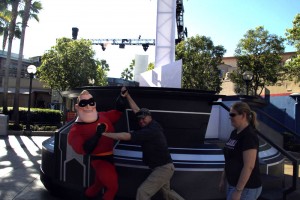 We then checked out the Bug's Life area.  Interesting use of tissue boxes…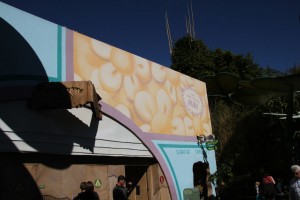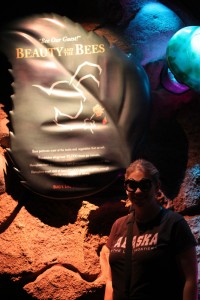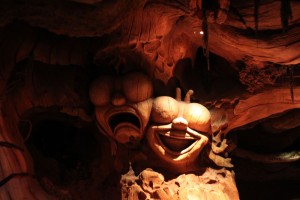 Couldn't take pictures during the Muppet show, but on the way in there were some cool shots: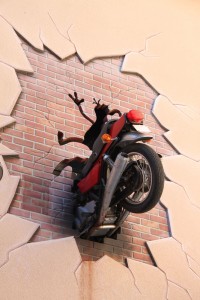 Monstropolis was a cool place as well: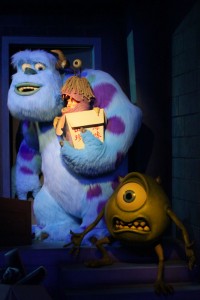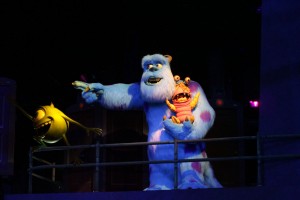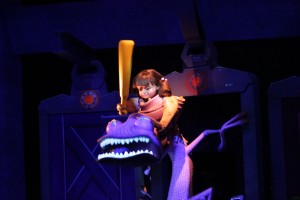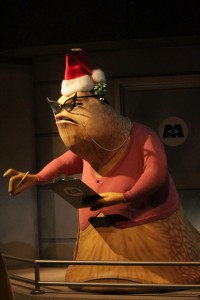 Midway rides are always cool: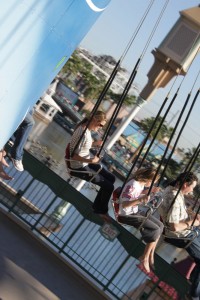 This was shot from the Ferris Wheel, which was a win on my part, since Kelly isn't a big fan of those kind of rides.  We did compromise on the non-slidey cars…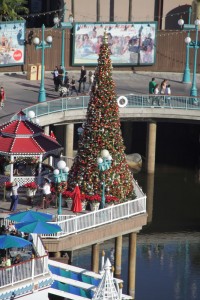 Some porters on the Jungle cruise in a bit of a pointy predicament..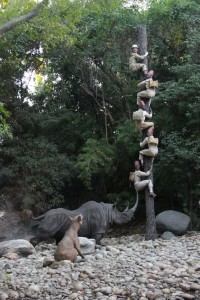 Way in the back corner of Disneyland, Kelly remembered there being a petting zoo… which was empty of petting animals.  They had apparently let some crazy old man keep his personal herd there for the winter: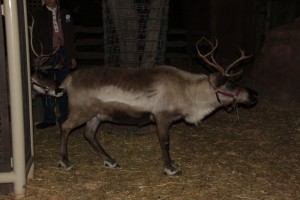 More rides, winding the day toward the end…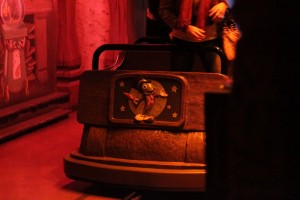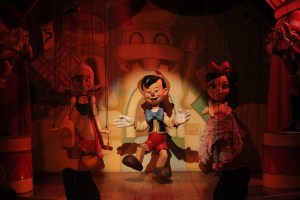 At Peter Pan's Flight of Fancy, there was a certain other character a bit out of his element: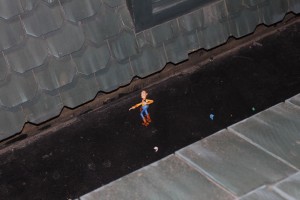 We of course had done Fastpasses for Space Mountain again, and on the way out we walked right into the fireworks show.   Got some more good practice shooting fireworks…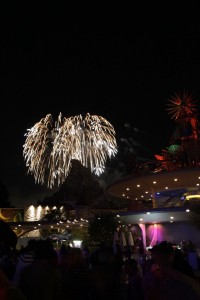 The castle was very pretty all draped in Christmas Lights: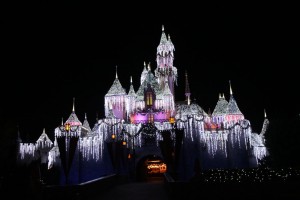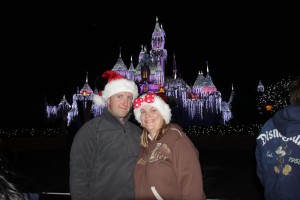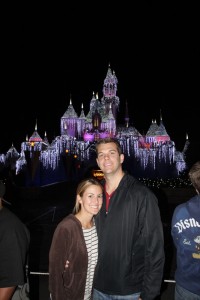 The next day we had to drive home… and weren't the only ones grinning from ear to ear!